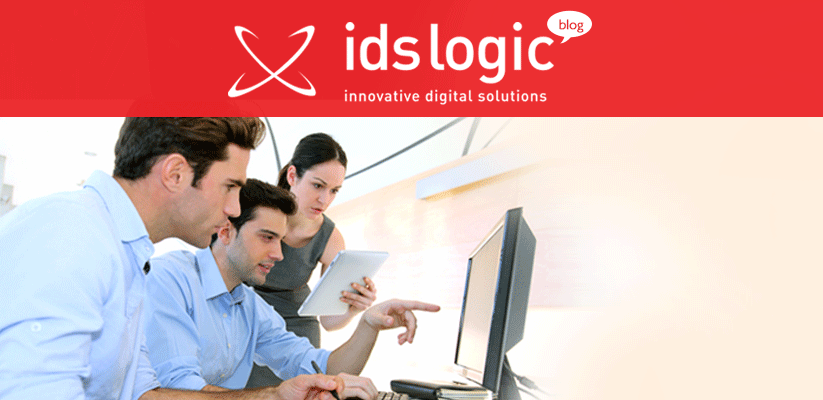 Why India Is Considered The Most Matured Global Software Outsourcing Destination?
It is a popular saying that executing a great idea is the only more powerful thing than a great idea. And this is quite pertinent to the Indian software industry as it has created a powerful presence in the global IT market by smartly harnessing its pool of talented resources. India's rise as a leading software solution provider in the past two decades is magnificent. The most defining reason behind this success is its ability to expand its horizons in newer markets, capability to offer a wide range of services on the latest technologies and successfully deliver higher value to business critical services.
According to a research study, India is considered to be among the most preferred outsourcing destinations in the world. The decision to outsource is often made to lower the firm costs, make efficient use of labor, technology and resources. Offshore outsourcing is a practice of hiring an external service provider to perform some specific business functions that are experts at.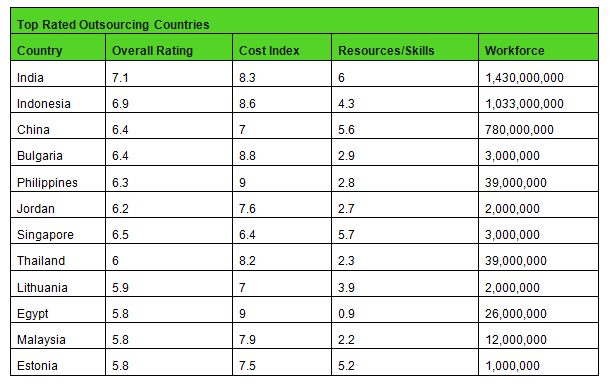 Source: http://www.statisticbrain.com/outsourcing-statistics-by-country/
Duke University CIBER/Archstone Consulting Study has revealed that, 73% of Fortune 2000 Companies believes that off-shoring is a significant part of their overall growth strategy.
Despite Constant Challenges, India Has Maintained Its Leadership
The Indian IT sector has established a strong footprint in Europe and America and is also in a process of establishing itself in Latin America. Emerging destinations like North Africa, Eastern Europe, South East Asia pose a strong challenge to India. Philippines has succeeded India's leadership position in 2013, but only in the BPO segment. However the Nasscom study indicates that our country still stands out as the most preferred outsourcing destination in terms of breadth and quality, talent pool, cost of operations and improved facilities. Some of the main countries India would offer services would include Europe and North America.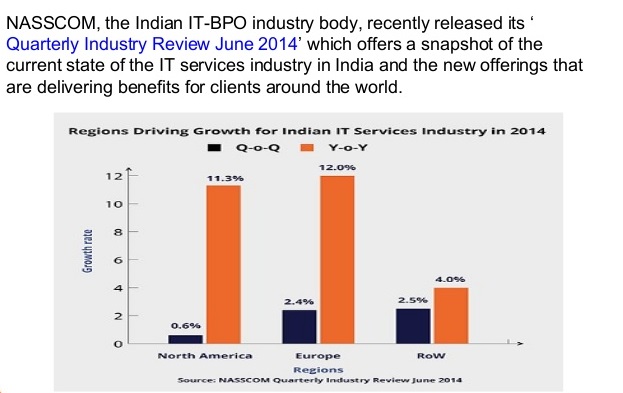 Source: http://www.slideshare.net/invensis/trends-benefits-of-outsourcing-it-services-to-india-invensis-technologies
Why Is India The Chosen Destination for Software Outsourcing?
1.Skilled and Talented Resources:
India still remains unmatched when it comes to expert and skilled resources. The population of the country is over 1.2 billion and there are about 3.1 million graduates added to the workforce every year. According to a survey conducted by Nasscom on the IT workforce status in the country, it is stated that to keep pace with the increased outsourcing job, India needs to have at least 2.2 million skilled professionals in IT software and services by 2020.
This makes our country a place that has the largest professional and technical talent pool in the globe.
2.Cost Savings:
A Nasscom report says that companies outsourcing their work to our country can save about 60% of their cost every year. It estimates that the financial service sectors in the US have saved about more than $8 billion in the past four years by outsourcing here. The differences in wages in the US or UK and India is more than 80% and this labor cost stands as a great advantage.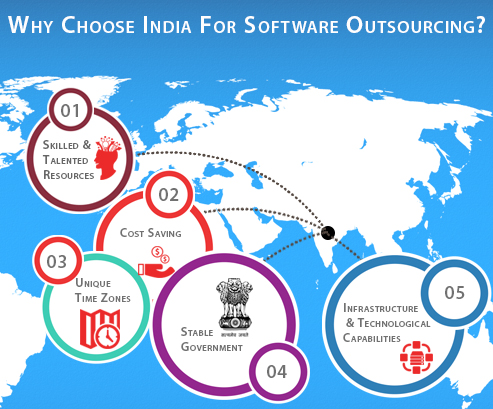 3.Unique Time Zones:
In business, time is equal to money. Companies willing to outsource their software requirements to our country can often take advantage of the time zones as IST is 5.5 hours ahead of GMT and 10.5 hours ahead of the EST. Clients are often happy when they can be sure that the project can be completed within the desired timeframe.
4.Infrastructure and Technological Capabilities:
India is a developing country and offers cellular networks, state of the art telecoms and ISP in all major towns and cities. So, clients are offered the best benefits of technology and at the same time they can also maintain uninterrupted communications through high speed bandwidth.
5.The Government:
India has a stable government that has taken various initiatives to promote the country as a hub of outsourcing. The government has implemented the National IT Task Force to promote growth and has set up a Ministry of Information Technology to approve and implement varied IT projects. In the year 2000, the government had also passed laws stating severe punishment to cyber criminals.
Offshore outsourcing has become an integral part of the global business world. To sustain in this tough competitive market, India has to be exceptionally good in accuracy, promptness and quality. Earlier, outsourcing projects were assigned with just keeping the economic benefits in mind, but today, value addition also forms an imperative component of an outsourcing deal.