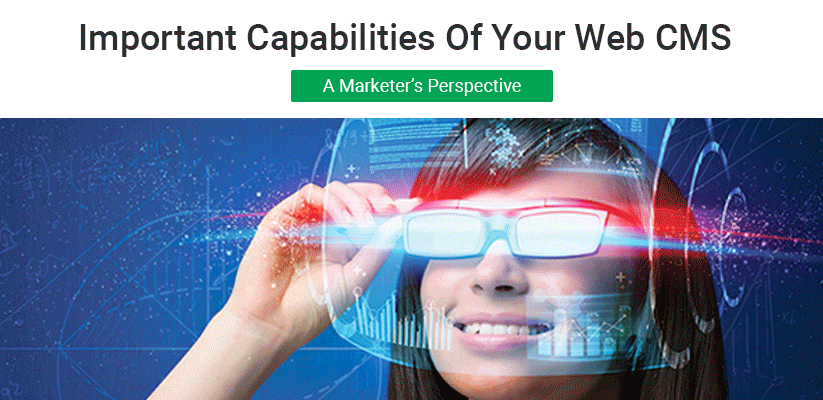 Important Capabilities Of Your Web CMS: A Marketer's Perspective
Now that we have come a long way since a content management system was only a way to manage your website, today, it is something that you need in order to consistently deliver an excellent consumer experience. It is a crucial component and must be considered as a part of your business growth.  So, why is it important to consider the shift from a web editor to a CMS? It is all based on connected and empowered customers who bring preferences and great expectations on how they wish to engage with a specific brand.
You must have noticed that today's customers expect a multichannel and seamless experience that anticipates their wants and needs. Companies that can deliver these are gaining trust and loyalty and the results include higher ROI, increased conversion and sales.
But, to attain these outcomes, companies are embracing the discipline of customer experience management that allows them to attain consistency and great user experiences. And it is here where a web CMS development comes in.
Here in this paper; I will highlight the features into consideration from a marketer's perspective.
Real time targeting and personalization: Your web CMS development should be able to adapt easily to the customer behavior and automatically sense it and offer the most relevant content from the site and interactions. So, while choosing your CMS platform, look for features like native content profiling that can help to capture the customer needs and interests.
Multilingual support:  This is another most vital feature that your CMS platform should have. If you are willing to target international audience, then your requirement list should have multilingual and translation support. It should support content and websites in various languages and offer content editing tools that help to capture the local markets. Also choose a CMS that easily integrates with other professional translation services.
Mobile device support: Since a large number of audiences avail services by using their mobiles, your web CMS should serve up a compelling experience on any device. Select a platform that will help to automatically detect the visitor's device type and optimize the content without re-rendering the site for each variation.
Social media support:  As a marketer, you should choose a CMS that includes a strong social media component and allows you to create branded communities and deliver a seamless experience with any third party social networks. It should make communication with the customers through forums, blogs, and integration with sites like Twitter or Facebook easy.
Email and automation: Email is very important for marketers to communicate and your web CMS should integrate email campaign management, optimization to improve site performance, drive higher conversion rates and improve the returns on investments. Marketing automation capabilities of your CMS will reduce repetitive tasks and streamline your marketing efforts.
Thus, in simple sentences, a marketer should always choose a CMS that satisfies the requirements of planning to expand business to new regions and ensures growth and higher revenues.