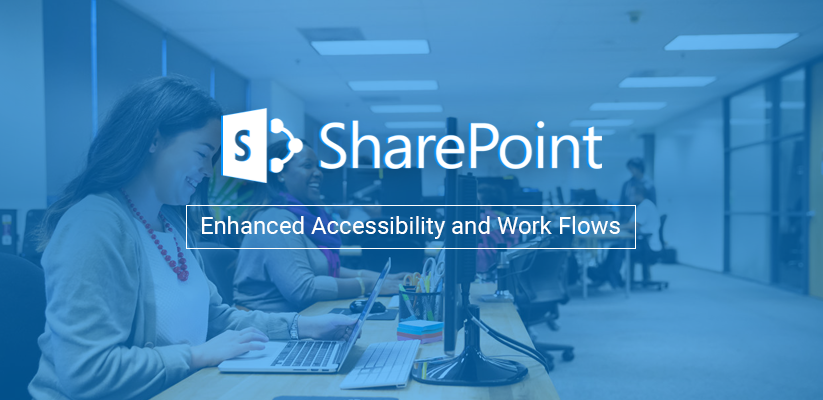 SharePoint Empowers IT Professionals with Enhanced Accessibility and Work Flows
As business owners plan to target newer markets and consumers, collaborative teams are looking forward to create meaningful strategic plans so that they can guide their actions for 2017. The intranet is the place where the latest happenings of the company are usually published. It is here where the employees keep up with news and also discover the latest happenings around them at work.
So, to keep them updated, this is the right time to further empower your employees and offer them a means to broadcast their work.
Keep Employees Well Informed about the Events & Information with SharePoint Solutions
With SharePoint coming up with various innovations, it is now easy to keep your team members well informed about the company events and information and also communicate with them in a better manner.
Keep Your Team Informed with Team News
Team news is the best way to broadcast key events and various accomplishments with other members of the company and extended stakeholders.
Business owners can use team news for things like project updates, trip reports, highlights of new documents, joining of new team members, sharing the business goals and etc. Team news is thus a great way to broadcast important content from your team.
---
SharePoint Mobile App:
The first version of SharePoint app for iOS was released in June 2016 and now both Android and Windows 10 mobile previews are introduced.
SharePoint mobile app assists to keep your work moving by offering quick access to your business portal, your team and the people you work with throughout Office 365 by easily allowing you to search for the content that you need and look for people across the organization.
The Microsoft Graph helps to power several in-app experiences and offers relevant information so that you can get to the people and the content that you need frequently.

Thus, SharePoint mobile app and SharePoint home is now your new "gateway" and the main goal is to make navigation simple and fast so that it is easy for you to keep a track of your sites, people and work that are important for you.
---
SharePoint to Integrate with Power Apps and Microsoft Flow:
It is announced that SharePoint has plans to integrate with Microsoft Power Apps and Microsoft Flow, and both are planned to be built into the SharePoint online Document Libraries and Lists. This will help people to automate workflows and also quickly build customized apps to suit their specific business needs.

It would in fact drive a rich and new experience to continue reinventing business operations and processes with modern lists and document libraries in SharePoint. Since tight integration is very essential for unlocking productivity gains for business organizations, accessing data from the mobile device is the first step towards success.
Also Read: Modern SharePoint Pages and Its New Features for The Users
---
Why Your Organization Needs SharePoint?
SharePoint is the most popular tool that makes it simple for organizations to access crucial information irrespective of their location. It helps to simplify business process initiation, improve team participation and streamline various processes.
1. Increased Productivity:
You can work both online or offline in Word or Excel and then publish it to SharePoint for collaboration. It is easy to align business processes and simplify the organizations workflow and this ensures that the teams are aware of the present project status.
---
2. Integrated Security:
Individual documents can be protected by setting file level set access to read only, full permission or read and edit. You can also integrate SharePoint with other remote access for better access control.
---
3. Improved Data Management: 
Advanced version control feature ensures that the project team works on the same version of the data and there is no accidental deletion.
---
4. Simplified Collaboration: 
With SharePoint development, you can easily create and securely publish documents for collaboration.
---
Since there are great benefits of using SharePoint for your organizations, it is good to implement the technology and solve workflow problems and help your team to do their best work.