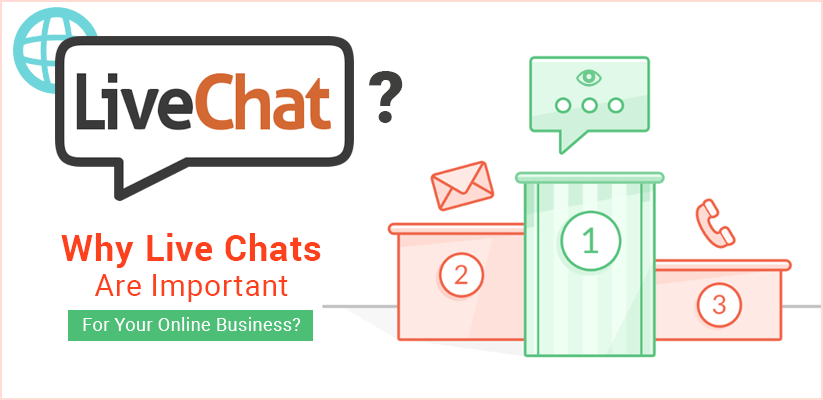 Why Live Chats Are Important For Your Online Business?
New and established entrepreneurs always explore various techniques that can help them to improve their sales and grow their business. The main issue with online business is that many customers get disconnected from the right person who can answer their queries in real time with precision.
Instead of watching visitors click away from your site to your rivals, it is important to offer effective communication means like adding live chat support to the business.
No matter what sector you work for or what your target audience is, live chat is considered to be the most popular communication channel for online business. Live chat has the ability to offer convenient answers that visitors want while adding significant benefits to the staff members and the bottom line of the company.
How Adding a Live Chat Support can Enhance Business Growth?
Research has stated that 90% of the consumers have found the live chat helpful and 63% shoppers returned to the website where they found that it has a chat option.
Increase traffic to your website: Most businesses are not aware of the fact that live chat support button on their website pages can help to boost the traffic to their site. They can share their chat messenger link on the social media, include in their email signature and distribute on forums and any other platforms where they usually maintain their online presence. Giving the customers an easy option for contact together with engaging information can increase the visitor's interest in the website and also be a great source of increased traffic.
---
Increase customer service efficiencies and reduce cost: An initial chat program is easy to set up and the customer support team can also learn easily. Cost per transaction is significantly low as a single customer service person can easily interact with numerous customers simultaneously while offering one-to-one service. This reduces staffing needs and boosts the efficiency dramatically.
---
Convert leads into paying customers: One main reason that customers usually abandon their shopping carts is often related to various complications and confusions at checkout. Such visitors usually need instant help to be able to take quick actions. Live chat support helps business to offer real time help to customers solve their queries and concerns during the sales process, which leads to increased conversion.
---
Generate customer loyalty: Online websites having live chats have about 73% customer satisfaction rate and people usually having a positive service experience with the company is more likely to ignore smaller issues that may arise with the company. For startup businesses, establishing a good reputation is very important and offering continuous support and 24/7 availability to address their needs help to create reliability and trust.
---
Get competitive advantage: It's very important to stand out among your rivals, and both small and medium sized businesses are recognizing the importance of offering real time customer service. Quick actions taken to solve customer issues help to remain competitive in the market.
---
Build long term relationships: Satisfied customers usually don't want to switch to any other brand. And the added advantage is that they tend to be less price sensitive. Experts are of the opinion that customers who feel they are taken care of are not concerned about what they are paying. More than 63% of the customers using live chat have the tendency to return back for services or products because of their familiarity with your business processes.
---
Live chat is increasingly gaining popularity every day and it is also expected to be introduced on mobile devices with responsive web designs. If used strategically, this can improve the experience of the customers visiting your website that will lead to higher conversions and greater brand loyalty.