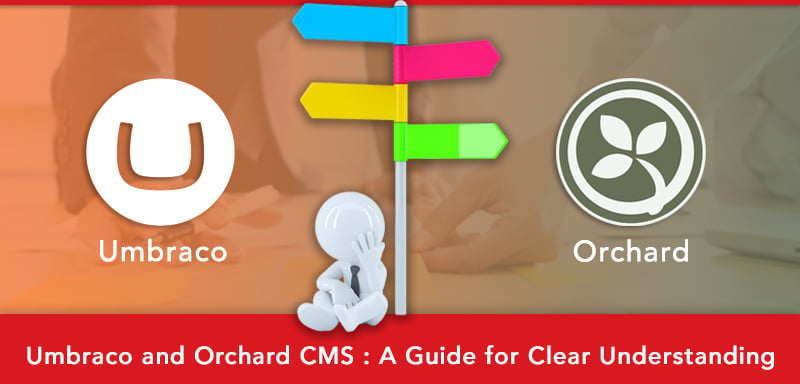 Umbraco and Orchard CMS: A Guide for Clear Understanding
Choosing the right CMS for your website is the first step towards your success. While selecting your CMS, it is vital to note the specific features and functionalities that it has to offer as this is what will help your business website to keep running, performing and publishing web content in the easiest manner. With numerous CMS available in the market today, selecting a perfect one can at times be a difficult task.
As a senior software development consultant, I have suggested many of my clients to use WordPress, Orchard, Umbraco CMS and etc., which allows you to work with website content easily. These CMSs usually don't require too much training and also works very fast. I used Orchard for some of my projects and then tried Umbraco and I was rather very impressed with the features and how easy it was to build a site using Umbraco CMS. So, here in this blog, I will share my experiences and compare Umbraco and Orchard CMS and help you select the best for your project.
Understanding the concept of Umbraco and Orchard:
The concept of Umbraco and Orchard are totally different as Orchard is more of a page management system and you have a list of your web pages that can be easily customized according to your specific needs. The pages are building blocks of your website, that has all the required properties already defined like the title, body and etc.
On the other hand, Umbraco is more a platform that handles content of varied formats not only pages. For example, your about us page may offer some specific properties like address, email, phone number and your contact us page may have completely different types of content. Though both the pages render HTML as output, it is not essential for the user to know the HTML markup language to make the changes.
The difference in development and customization:
While building a new website using Orchard CMS, you have the basic structure, default templates, but most of the times, we usually create new templates based on the need of the website. Doing this by using Orchard CMS development may be a painful task as the small parts that are the building components of your website template may be a hard thing to understand. The part may be anything ranging from an image, title and etc. and you have to inspect the page and extract that part and update for creating a new one. There is no concept of a single template file.
This is not so with Umbraco and developing template is easy as you can use Visual Studio or use it from the Administrator interface. For Orchard development, you need an external tool. But one benefit of using Orchard is that it supports multiple templates in different folders and you can easily switch in run time. Umbraco lacks the option to update it in runtime.
---
Permissions and user management:
When both Umbraco and Orchard are compared based on the features for user and permission management, Umbraco is a better platform as the UI is much easy to understand and cleaner. Orchard has a very complex UI with many checkboxes on a single page. Umbraco offers an out of the box feature that allows users to create accounts on their website. This is beneficial when you sell something like music, pictures or videos.
---
Performance of the platforms: 
For many projects, I often chose Orchard CMS as it offered better performance than many other CMSs. But this was fine only for small websites. With time as the site grew bigger, the performance of the page got worse and this made me start looking for some other CMS and I then replaced my choice with Umbraco. Though I don't have very big websites to test, but sites with about 100 pages worked better in Umbraco than on Orchard. The pages took less time to open and the overall performance was much more satisfying.
---
Clean and responsive UI in Umbraco than Orchard:
The latest version of Umbraco has a Java script UI developed on Angular JS. The content opens immediately and is responsive. The tree structure is very useful while working with many pages. This is not so in Orchard. There you have to scroll the list of pages to find the particular page that you want. Using different types of colors and icons for your content type helps to locate the item that you want to update in Umbraco. The Orchard CMS navigation menu consists of about 30 items and it may be very confusing for someone using it.  In contrary to this, Umbraco has an excellent separation between Development, Content, User Management and when you work with the content, you don't have to remember where to click as it is just an icon that you need to remember.
---
What is good in Umbraco?
Umbraco development is a wonderful choice for the enterprise sized business and since it runs on the ASP.Net platform, its usability is endless. It is an open source platform and it is a helpful tool and the developers don't have to stay limited by its framework. It works seamlessly with any Microsoft product and so any content updates can be automatically applied to the site. The UI is also quite intuitive and it does not require vast technical knowledge. Its immense flexibility makes it a perfect choice for both high and low complexity projects and you will also enjoy working with it for your website. With Umbraco, you are able to give your editors a tool that helps to bring the beautiful content live without having any frustrations.
---
What is good in Orchard?
Since both WordPress and HTML templates can be integrated in Orchard CMS, you can easily use the themes to create an attractive website. Marketing your products online is easy with shopping cart integration and the platform also allows you to create a simple customer order management system. It offers the ability to install customized widgets and create bespoke style sheets.
---
So in a nutshell, it can be said that based on the specific requirements of your business and website, you can choose Umbraco or Orchard as your perfect CMS.