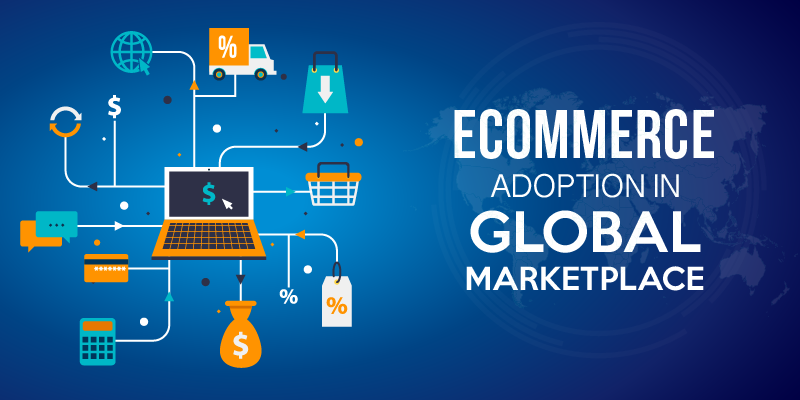 Why Ecommerce Adoption Is Imperative To Survive In the Global Marketplace?
Internet has changed various aspects of our lives and this includes the way we communicate with others, how we search for services, how we keep a track of our finances and how we purchases things. E-commerce has revolutionized the business world and has been growing steadily every year both in breadth and depth.
With a wide range of things to purchase online and various traditional methods of shopping becoming obsolete because of the convenience of online transactions, buyers are looking for immense flexibility and comfort while making any purchases.
With the emergence of non-banking players while making transactions, the e-commerce market is also growing at a rapid pace. Global ecommerce sales have increased and with the increased use of broadband connections, smartphones and innovative payment methods, the growth in online shopping has increased. The payment needs are also changing and now merchants are focusing on enhancing the user experience and offering secured ways of transacting online.
They are trying to understand the consumers' behavior and meet their desires to shop from the comfort of their offices and homes and even when on the go. This change in the consumer behavior, together with the availability of reliable and cheap technology has in fact led to a significant growth in online sales.
The main point is that considering an ecommerce website is a great option for the growth of your company. Even when starting a business, adding online shopping is a good choice, but there are various challenges that you may have to face. So, why should you take the plunge?
Evolving customer needs:  Online business owners have to focus on identifying the consumer needs and understand their behavior to serve them better with innovative services and products. Business owners should not only target the customers based on demographics, but they should analyze their spending patterns so that they can market their products better. Such targeting often helps businesses to convert more leads into sales.
---
Advanced technology: With the availability of latest technologies that are fast, cheap and secured, many new business owners are entering the ecommerce market as technology has evolved from command line interface to drop down menus to applications, which has made it easier and simpler to use. Technologies like Magento, Shopify, WooCommerce etc. offer a higher level of comfort and offers a positive impact on online ecommerce solutions.
---
Increased use of smartphones and internet: With the increased sales in smartphones and tablets, than those of laptops and desktops, more and more customers are expecting to access the internet through their mobile devices rather than using their desktop computers. Wireless technology and miniaturization of components have also helped consumers to interact over the internet and shop for their products while they are on the move.  A business without a mobile presence will only lose great opportunities.
---
Social media: Social networking channels have opened up a new means for online retailers to promote and increase awareness of their products among a wide range of customers. Since social media is mainly used by the age group of 18 to 50, it has become an important media for building brand visibility and loyalty. Creating an ecommerce website for your business is a must to avail the benefits of social marketing programs. It is also an excellent platform to get customer feedback on the basis of which improvements can be done.
---
"So, now the real reason why business owners are shifting more towards e-commerce website is that they find it a useful facility to conduct business, promote their services and products, understand customer behavior and improve their services accordingly."