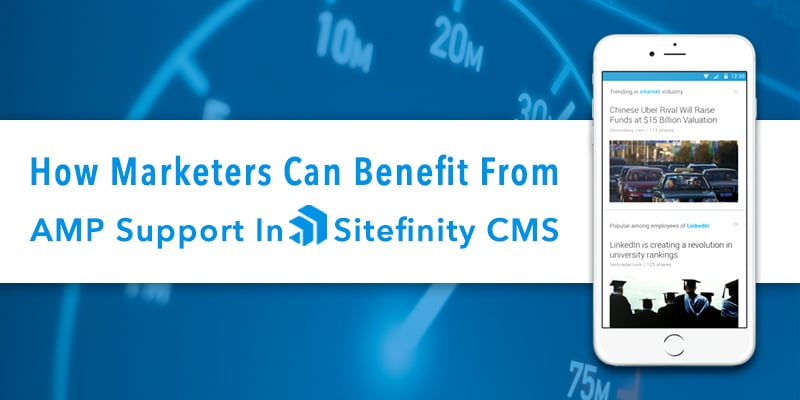 How Marketers Can Benefit from AMP Support in Sitefinity CMS?
Sitefinity is a perfect platform that is highly popular for its ease of use and with every new release the CMS comes up with additional features and enhancements that help to offer high quality solutions to the customers.
With the latest version 10.2 having just been released, it has become easier for people to access Sitefinity mobile sites from any devices. It is true that if people cannot access a site within three seconds, then they are likely to switch over.
Purchase decisions are also made in micro moments and 70% of the people who make a switch do that due to slow loading time of the pages. And this increases the overall website bounce rate, which leads to loss of huge business opportunities.
Accelerated Mobile Pages (AMPs) came with Sitefnity CMS 10.1 and the features have evolved a lot with the latest version.
What is AMP?
AMP is actually a Google's initiative that is focused to offer a lighting fast method that enables content loading. It is Google's feature that offers articles or web content to load about 10 times much faster than any average web pages.
It also helps the mobile application to be more responsive. It allows the publishers to have greater control on what they want to place on their pages.
This great initiative prioritizes and enhances the user experience on a mobile device and many organizations are at present adopting this with the hope to improve their user mobile experience.
---
How to Create AMP Versions of Your Articles AMP Website?
The Sitefnity CMS development platform automatically generates an AMP version of any news, events or blog posts and for those dynamic content types, it is essential to define the template in order to have the pages out of the box.
The first step is to enable the mobile format module from the Administration -> Modules and Services. Then choose the content type that Sitefinity CMS should create AMP counterparts for and then activate the Google AMP format before selecting the content type you actually want.
---
Why does this Google's AMP Really Matters?
Since Google launched the Mobilegeddon algorithm, it has become very important for website to become mobile friendly as it affects the page's overall ranking.
Things like user experience, load time and ad functionality always affect the way pages' rank in Google and content marketers are also trying everything to enhance the mobile functionality of the site.



Accelerated mobile pages are designed for web pages that offer the readers with all the information that they need without much wait time. This feature helps to boost the rankings of Google AMP enabled pages and also make the web content more readily available to interested users over mobile devices.
---
How can the Marketers Benefit from Sitefinity AMP Support?
There are a lot of discussions going on about the real benefits of AMPs for the marketers. At Sitefinity CMS; we have observed 5 benefits for the marketers that include:
Great user experience: Providing the users with appropriate content is the target of all marketers and in this new world, users want information within seconds from their mobile devices. So, providing them a better mobile web experience and offering them content when they want and how they want is what businesses are adopting.
---
Website traffic: By using AMP web pages, you can increase web traffic and generate more audience like your competitors. You can avoid losing business opportunities.
---
Content visibility: Another benefit of using AMPs is to boost the SEO of your site. Every content owner and marketer is always searching for the best means to get their content before the visitors and AMP Support provides a great opportunity to ensure content visibility.
---
Speed of the site: With AMPs, it is possible to increase the speed of the web pages that are viewed via mobile devices. Since the pages are well optimized, they tend to load fast and offer information to the audience within seconds.
---
Competitive advantage: The fact is that marketers are creating content for the audience to keep them engaged and well informed. If your competitors are not doing it, then it is a huge opportunity to beat them and capture the market.
"Page load time has become a great factor in the SERP rank and so many publishers and marketers are now forced to use AMP to attain higher page ranking. Sitefinity CMS already provides a quick means to create an AMP version of your web page content with simply a click of a button."
Also Read: Answers to Some Queries Related to Micro-Moments, AMP in Sitefinity WCMS