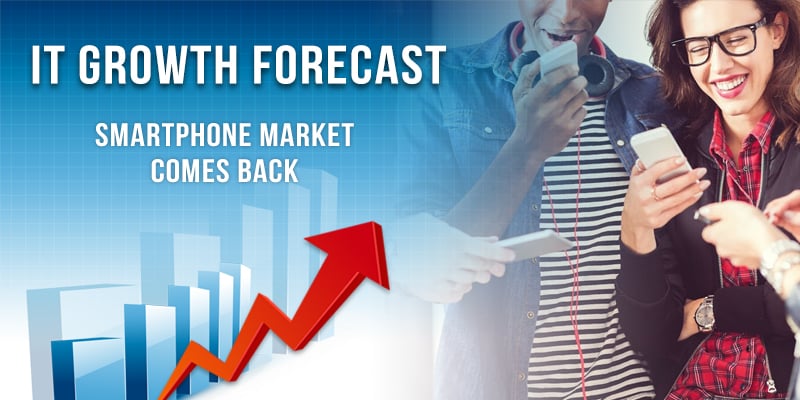 IT Growth Forecast as Smart Phone Market Makes a Comeback
As businesses have started to capture markets online, people are getting more and more involved in creating websites, mobile apps and other functionalities that can make various operational processes easy. Today, the world is spending about a total of $3.5 trillion this year, which is about a 1.4 percent increase from the previous year, according to a market research conducted by the firm Gartner, Inc.
The data center system segment is expected to see a growth of 0.3 percent this year and the segment has experienced a slow growth in the server market last year. There is a shift in the market of buying servers as most enterprises instead of taking services from the traditional vendors have rented server power in the cloud from brands like Google, Amazon and Microsoft. But this year will definitely see a steady growth in IT services. This may be due to both foreign and domestic changes in the policies. New business friendly policies will have a strong and positive impact on the market and even the Indian Government is expected to increase its infrastructure spending during the coming few years.
The growing smartphone market will help online businesses to reach untapped markets
2016 was not a very good year for smartphones, which saw just a 2.5 percent growth for the device. But this will not be so in 2017 and Android devices will comprise a majority share of 85% of the market, which will be followed by Apple 14.7% and Microsoft in third place with 0.1 percent. Latest predictions from the technology research firm International Data Corporation (IDS) has stated that the increased sales of smartphones will have a positive impact on business as newer apps will be created to reach out to the uses and offer varied services.
From processing credit cards to documenting expenses, smartphone apps will change how small businesses operate. And this will be the reason that more and more firms will turn to software development company to create mobile apps, so that they can enhance the way customers interact with their services and products.
Few ways how smartphone app development will help business organizations:
1.Improve the customer services:  Many mobile apps do more than simply attracting your attention to the product. They also improve the customer's experience. Such apps often make it very easy for the users to access your company's services with great ease.
---
2.Attract new customers:  Smartphone apps are great means to advertise or expose your services to a growing and new audiences. The app makes your business accessible any time of the day and this helps to attract new and potential customers.
---
3.Create better revenue opportunities: Mobile apps allow business organizations to make new ways to increase profits and revenues. Such apps also help to generate better reports that can be used for crucial decision making.
---
4.Engage customer through social networks: If you are not tweeting or You Tubing or even friending, then it is for sure that you are missing out on a lucrative business opportunity to connect with your target audience. Social networking plays a great role in adding value and creates a strong online presence of your business.
"The future of your business lies in your hands. If you are willing to use technology to target the new customer base, then invest in IT solutions and make big!"