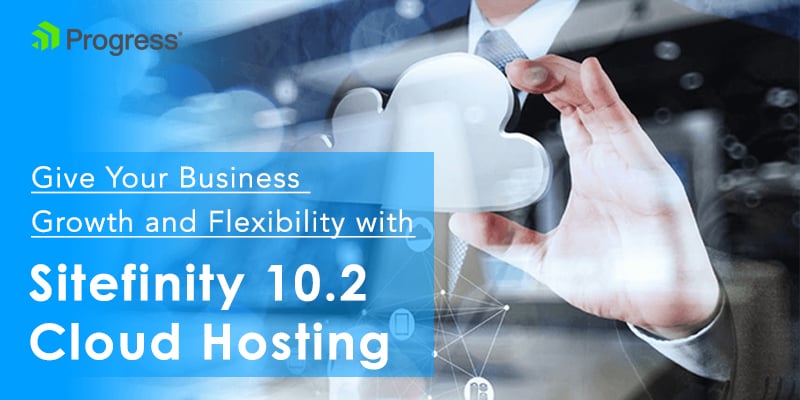 Give Your Business Growth and Flexibility with Sitefinity 10.2 Cloud Hosting
Developers and business owners have been eagerly waiting for the latest Sitefinity 10.2 release, and their wait has finally come to an end with the release on 15th November 2017. The CMS has come up with many new features and functionalities and have also worked on previous issues. The popular CMS is built with a single purpose of serving the ecommerce retailers with its powerful retail improvement tools that other CMS platforms usually lack. The latest version 10.2 helps the users to personalize each individual piece of image and content and create a number of customized experience on a single page than ever before. There are many organizations that want to keep the software behind the firewall, but for those who are willing to leverage the cloud platform like the Amazon Web Services or the Microsoft Azure, Sitefinity 10.2 is best for them.
Some Important Features of Sitefinity 10.2
Connector for oracle Eloqua:  In Eloqua, you can easily create and configure online forms and send the data and trigger automated workflows. Sitefinity allows complete control over field mappings, so that they are able to use hundreds of campaigns by changing the campaign ID.
Integrated and automated personalized reports: The Sitefinity Digital Experience Cloud now allows the users to create a report from the existing personalized campaigns automatically. Once a new page or widget is created, a report showing the details like segment attribution is automatically generated. Analyzing the reports is also easier with the links that are integrated into the CMS page's grid.
Accelerated mobile pages:  AMPs often help to increase the rate of success of content marketing on the mobile devices by reducing the page open time and enhancing the SEO ranking. Such pages are designed based on an open source specification and once they get validated, they are cached in Google AMP cache for quicker access.
Sitefinity Hosting Recommendations:
Today, there are various Sitefinity hosting options that range from shared hosting plans to sophisticated cloud hosting deployment configurations. Choosing the right Sitefinity hosting partner will help you to boost your business:
Factors That You should Consider:
Targeted visitors traffic and peak loads
Website value to the organization
The size of the website in terms of content and pages
The load of the site in terms of concurrent users updating the content
It is very important that your Sitefinity website is running in a load balanced environment, so that it can eliminate the single point of failure and offer scalability and better performance even when under peak traffic loads.
Sitefinity CMS is compatible with Microsoft Azure and the CMS uses various capabilities to offer a smooth experience to the developers and IT administrators. Sitefinity sites on Azure are now taking the advantage of Active Directory Federation Services in Azure, Azure Search and Azure Redis Cache. Deployment in the cloud has become easier and now only with a few clicks your project is ready to go.  Using the cloud hosting platform helps to avoid the complexity of the on-premises set up and also boosts work productivity.
With a decade of experience in handling varied Sitefinity projects, we at IDS Logic have the technical expertise to host your website successfully on any platform that includes companies like Rackspace, Microsoft Azure. Using the latest advances in cloud computing we offer flexibility to scale your hosed Sitefinity environments that ensure that all your apps will run smoothly.