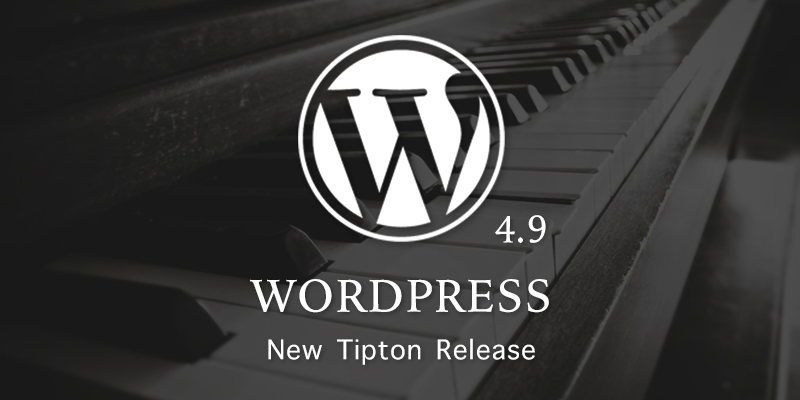 New WordPress 4.9 Tipton Release
We all know that WordPress CMS is a great means to create blogging websites and control your content. Since it is easy to use and offers a great support forum, business owners prefer the platform whenever they have to build a CMS website. WordPress has just released its latest version 4.9, which is named TIPTON, a name in honor of the famous jazz musician and band leader Billy Tipton. With everyone getting very excited about the latest version update that went live past week, it is time to discuss what's new in the version with you all.
Tipton is focused much on customization options, code enhancements and widget improvements and let's take a look at it in details:
Enhanced Customization Options:
WordPress 4.9 introduces latest features to improve the website's design:
Draft and schedule site design customizations:  This will help you to easily change the site's design and schedule it to go live on a specific date and time.
Design lock to guard the changes:  With this feature, you can secure your draft design, thereby preventing others from making any changes.
Collaborate with design preview links: You can collaborate with other team members and get a feedback on the proposed site design changes by sharing the preview with others.
A prompt to protect your work:  In case you are a step away from the desk and unable to save your new draft design, then the latest WordPress 4.9 will ask you, if you are willing to save your unsaved changes.
Code Enhancements:
In the latest version, WordPress code editors have been given an upgrade that includes:
Code syntax error highlighter: This helps to scan, pinpoint and even fix the CSS editing and coding errors easily and quickly.
Sandbox for safety: You can avoid saving errors like the issues that cause white screen of death when working on themes and plugins.
Warning, potential danger ahead:  The latest version will warn you while editing the themes and plugins and recommend you to take a backup of your files to prevent them from being overwritten by any future upgrades.
Some Widget Updates:
New image gallery widget: Tipton has introduced a new widget improvement and this feature allows you to add an image gallery to your sidebar.
Press a button, add media:  If you want to add media to the text widget like embed images, audio and video, then you can do this by using the Add Media button.
Site Building Improvements:
Finding and previewing themes:  This feature helps you to search, browse and preview thousands of WordPress themes from the customized screen. You can speed up your search with filters for features, subject and layout.
Better menu instructions and less confusion: The UX is now updated for a smoother menu creation process.
More reliable theme switching: Improvements in WordPress 4.9 Tipton offers more persistent menu and widget placement when you plan for a new theme.
Some Other Improvements for the Developers:
Customizer JS API improvements: Numerous improvements are made in this area and there are new base control templates, date/time control and panel / section / global notifications to name a few.
CodeMirror available for use in the themes and plugins: A new code editing library, CodeMirror is created that allows for syntax highlighting, validation, error checking while creating code within your plugins.
MediaElement.js is upgraded to 4.2.6: This includes an upgraded version of the MediaElement.js that removes dependencies on jQuery, modernizes the UI and improves accessibility and also fixes many errors.
Roles and capabilities improvements: Latest capabilities are introduced that enables granular management of plugins and translation of files. The site switching process in multiple site is now fine-tuned to upgrade the available roles and capabilities in a coherent manner.