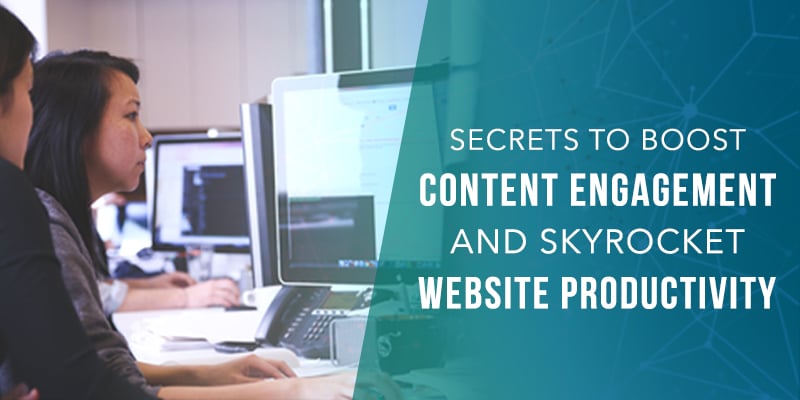 Secrets to Boost Content Engagement and Skyrocket Website Productivity
Quality content often acts like a fuel to great online business marketing. Once you have your business website designed, it is time to add some creative content to it so that your targeted audience are well aware of your business and can get some relevant information from your site. "Content engagement" is something that is related to the digital marketing landscape. Whether you are a simple blogger or a big business owner, having a high engagement rate is what everyone dreams of. It is because such content are usually well crafted and helps to move the audience closer to their business brands.
With the increased importance of content in online marketing, it is not something to leave to an intern; it requires a well framed strategy to ensure that it really supports all marketing campaigns.
But how do you improve the content engagement of your business? Reports have stated that they are various ways to keep your audience well engaged with the power of words. So, here in this post, I will discuss some tips on how you can leverage on these to improve your day to day content engagement.
Come Up with Interesting Ideas:
With the hectic everyday lifestyle, people always look for something that is new and yet unexplored. Writings that can motivate your readers to think are the best means to keep them engaged. And for this you have to:
Update your old web content and help your audience to learn something useful and new.
Add eye catching visuals that serve as a mental break from reading long texts.
Create short and informative articles that are presented in a bullet pointed form for easy understanding.
Connect Your Audience to The Community:
It is very important to connect your targeted audience with other individuals sharing similar interests. Such groups often look for viral and visual contents that help them to learn and be a part of the community. To help your audience remain connected, you can use long or short videos together with the content so that they can instantly relate to what they are reading. Using listicles is also important as people want their information to be delivered at high speed. Creating an article in the form of a list will help them to gather information quickly and effectively.
Offer Personal Insights and Advice to the Audiences:
Popular brands often try to keep their audiences involved by offering more personalized content that suits their specific situations. This type of content actually aims to make the reader feel comfortable and to support this you can:
Include fascinating facts that your readers have not heard before
Include a story that is both entertaining and sends a message to the reader
Offer advice that is specific and help them to take an action
Ask rhetorical questions and help your reader to assess their present situation and act sooner
Include an Entertaining Factor in Your Content:
Any content that makes you feel good for a moment is always appreciated. People who look for entertaining content for mental break or relaxation are more likely to watch content formats that can instill a sense of relaxation. You can try to add:
1.Memes: This type of content is highly entertaining and shareable and will help your brand to attract the audience.
2.Emotional and nostalgic content: Old photos of your brand with early employees can easily transport your audience to the early history and make them feel nostalgic.
3.Live video streams: Periscope and Facebook Live are streaming platforms that are used to offer a look at the company. Mobile audiences watch such videos and it is one of the most entertaining media today.
Post Updates About the Company:
This is another type of content that can be used to keep your audience glued to your site. Whether it is about current events or product launches or seminars, latest updates of your company will help you to build the brand. So create blogs, press release and infographics to attract your audience.
Social Updates:
Social media networking sites are great places to seek information and refresh the mind. You can seek what your peers are following. You can easily influence the buying behavior of the people and expose your brands to a possibly untapped market.
"So to conclude, I can say that once you have identified the type of content that suits your brand, you will easily be able to create content that can catch the attention of your audience and keep them glued to your site."