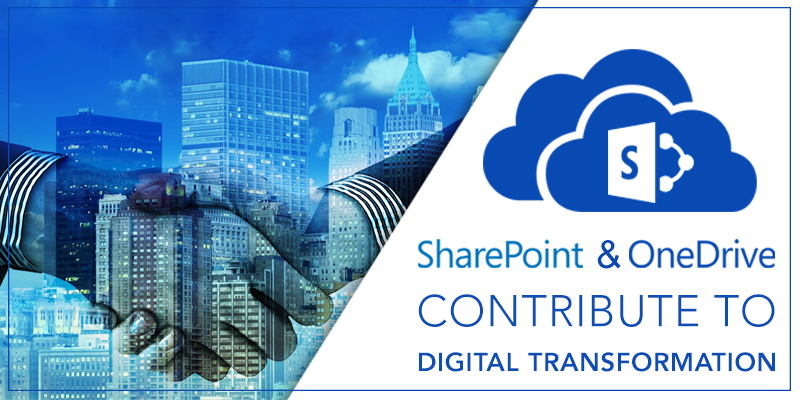 SharePoint and OneDrive Contributes to Digital Transformation
Microsoft's SharePoint is a popular platform that has attracted the attention of top businesses across varied verticals as it can build the website and web based apps quickly and can drive efficiency and enhance productivity remarkably. SharePoint and OneDrive in Office 365 empowers the organization, individuals and team members to share information with confidence, inform and engage the organization, transform business processes and also harness collective knowledge.
Sharing with Confidence:
OneDrive allows you to share files securely with people inside or outside the organization and its Office integration allows users to collaborate on the shared files with other individuals in real time. Not only this, it enables you to access all your Office 365 files that include individual work files and the files that are shared with you by teams, individuals and organizations, regardless of the fact that you are using a Mac, an iOS, PC or Android device or a Windows phone.
View your files in File Explorer using OneDrive Files On-Demand: OneDrive Files On Demand allows you to work with all your files that are both personal and work in Office 365 across OneDrive and SharePoint right from the File explorer without downloading them and using the storage space of your device.
Share files from Finder on Mac and File Explorer on Windows: It is now easy to share Office 365 files from File Explorer on PC and Finder on Mac. Sharing files and folders with specific people or even sending a link that allows anyone requiring access, outside or inside the organization is simple. Together with this, you can now have complete control on how long a link offers access and how you can easily modify or view the permissions that you have granted. The sharing experience is the same of any device.
Connecting SharePoint Team Sites and Office 365 Content Services:
Recently there has been some additional enhancements that will unify collaboration experiences in Office 365 and they include:
Support to add pages in SharePoint as tabs in Microsoft teams: This helps to add a tab with any site's homepage or news articles and helps to enhance the existing ability to add tabs for the document libraries.
Ability to connect existing SharePoint team sites with Office 365 Groups: This allows the users to improve the existing sites with calendar, Planner and shared conversations.
Transforming the Business Processes with SharePoint:
SharePoint development helps the users, organization to automate various workflows, streamline tasks and integrate the processes seamlessly into any device and from any location from where you work.
Use PowerApps to create customized SharePoint forms and digital experiences: With the latest developments, you will now be able to use Microsoft PowerApps and create rich digital experiences and custom forms that surface in the context of a SharePoint list or library. The users can then create, interact, view with the data by using the custom form or experience. The PowerApps and SharePoint development empower the users to drive transformation in the organizational process and the team.
Simple approval flows created in the SharePoint libraries: The SharePoint and Microsoft flow are also integrated deeply and the new built-in approval allows the user to send any documents for approval with simply a custom message. The receiver can approve the request directly from an actionable and rich email message, so that feedback and approval can be given without leaving the inbox.
Secure the content and manage the service:
Latest innovations in the cloud help to add greater business value and offer new capabilities to the IT professionals to support, administer, configure and secure their organization's content and services.
Help the administrators with the new SharePoint admin center: The latest SharePoint admin center operating from the fourth quarter of 2017 is much better with Message Center posts, interactive usage reports, and a Service Health dashboard that caters to the needs of the administrators. You will also find numerous SharePoint settings that will help you to configure the access, sharing and service.
Engage Employees and Keep Them Informed:
The intranet allows you to keep people and employees informed of latest news and information and also communicate with them easily. It helps people to engage employees and also foster open conversations. And keeping your visitors engaged is fundamental to driving the digital transformation.
Reading out to a broad audience with SharePoint communication sites is easy as it is a beautiful and dynamic site that allows you to reach out to a broad audience so as to keep them informed and engaged. Your team site allows you to share anything within your group while you work and a communication site help the group to share and communicate the message across the organization. Any news that is published on the communication site surfaces on the SharePoint home Office 365 and also on the SharePoint to all the users who have access to the site.
Gather Collective Knowledge:
With business processes changing, it has become very important to make it easy to find information and expertise whenever it is needed so as to encourage the best practice sharing. Personalized search has helped to leverage artificial intelligence and machine learning from Microsoft Graphic to reveal valuable results faster. While you search for knowledge, you will find content in files, news and sites and your search results will now include people having similar skills, projects and interests and Office 365 profile that is relevant to your query.
Research has stated that businesses are now on the path of digital transformation and SharePoint has come up with many innovations that will help the users manage and share the content and apps that will help to remain more connected and collaborative in the workplace.