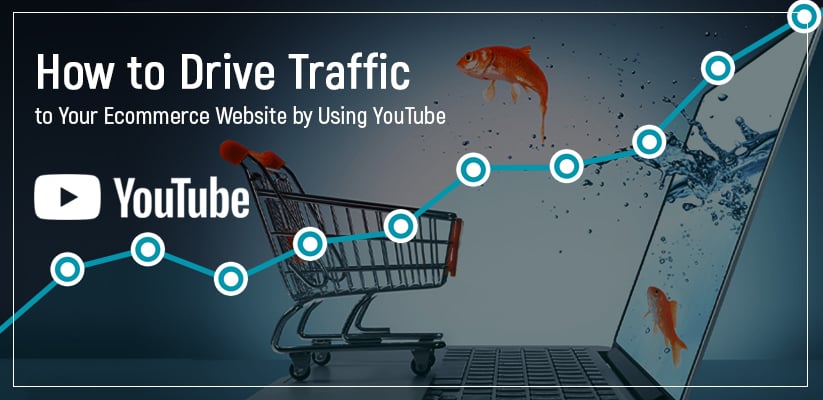 How to Drive Traffic to Your Ecommerce Website by Using YouTube?
The landscape of technology is rapidly changing and has great impact on business operations. With ecommerce gaining popularity and more and more people purchasing things online, it is important to adapt these technological changes and carry out business transactions for the success of your business. Though the ecommerce model takes into account varied considerations of promoting business, yet business owners and developers are constantly trying to use creative means for digital traction and to monetize their business.
Using YouTube as a medium to market your product is one of the most successful means to take your business to the next level. But it is very important to optimize your videos, so that you can avail the most out of your efforts. Here in this blog, I will share with you some important tips of making your YouTube videos a great success for your ecommerce business.
Create a video strategy: This is in fact the first step before producing a video. Set clear goals regarding your products and services and define a strategy to reach out to your customers. Whether you are willing to increase your brand awareness or want a higher ranking, choose the relevant one for you before producing the content. You can then define your video strategy containing the right content needed to attain your goals. The three types of video content include:
1)- Hub content: This is relevant to specific and personal interests of your potential audience and needs to be produced regularly.
2)- Hygiene content: These are videos that keep your customers updated like the FAQ list
3)- Hero content: These are often very high quality videos that are produced for some special occasions and are also marketed during product launches or any events.
Consistent branding: Aligning your ecommerce brands with your YouTube brand is very important. The consistency and uniformity will help to develop and refine the confidence of the audience and increase the probability of subscribing to your channels. The visitors will feel more inclined to check your videos and also see the products that your ecommerce website has to sell. It helps to gain recognition in the market and bring a positive effect on your business.
Create product related videos based on popular searches: Based on specific search keywords and search request that your customers choose to use, you can create videos of those products, so that they can find your YouTube videos whenever they search the web. For this, you have to define the search requests that are relevant to your product as well as popular among your potential audience. Creating content and videos for those search requests will help your ecommerce business reach a wider market base.
Make shoppable videos: Have you ever watched any video and wondered where you could find the outfit the character is wearing or any product that is demonstrated there? Now, think of watching something that you like in the video and a simple click can take you immediately to the ecommerce website that offers the product where you can purchase it. This is a shoppable video where a simple click would take you to the ecommerce site and make your shopping easy. You don't have to spend time in searching the ecommerce site that sells the product.
Product demonstration videos: A major drawback of purchasing things online is that you cannot touch or feel the product and also see how it works. Creating some videos that demonstrate the use of your product in different situations and in action will help your prospective buyers to gain practical information about the product and this will also help them to make a purchase decision.
Good collaboration: If you are willing to grow your ecommerce business, then creating YouTube videos may help. But the question is how can you become popular by using YouTube? The easiest means of gaining popularity is to attach yourself with someone who is already famous and is there for a longer period. In simple words, collaboration with the industry influencers who are popular with their channels can help you to promote your band easily. So choose leaders, who are of great interest for your target audience. Go through a brainstorming session to plan how this person can be used in your video that appeals to the audience.
YouTube is an important channel for online marketing and a video can attract a huge percentage of internet traffic that can be related to your website. this percentage is likely to grow in the coming future and your ecommerce business should capitalize on it.