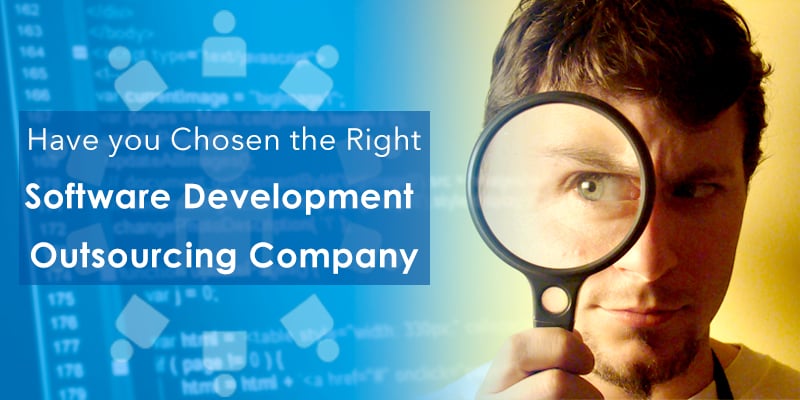 Some Clues That You Have Chosen the Right Software Development Outsourcing Company
Software applications play a vital role in the success of modern business and hiring the right agency for your project is crucial. However, many companies often find it a daunting task to hire reliable and skilled developers who can offer them the best solutions based on their budget and business objectives. And moreover, the number of developers that the company needs may vary greatly. Due to this reason, it makes sense for various organizations to consider outsourcing for their software development.
Here in this blog, I will discuss with you some interesting clues that will show that having outsourced your software development needs to a world class team is the best decision that you have taken.
They are quick and accelerating:
When you choose a software development outsourcing team, they are always willing to go – Sprint Zero, which is being ready and able to offer business value that is potentially releasable and usable. So, everybody would want that. Hiring an internal team having exceptional skills to complete the task is a different situation and it would be very costly to maintain the resource and the infrastructure. If you still decide to build an in-house team, then remain prepared to spend significant time, which may be six months or even a year that will include the recruiting and hiring process, discussing the company policies, placing them in their workspaces and many more. But when you outsource the entire work, a fast accelerating team is always ready to work- right from the beginning till the launch of your project.
---
Highly knowledgeable: 
Expert software development teams are always aware of the industry standards, processes and procedures. And concepts like agile development and DevOps are nothing new to them. They often follow the best practices and also do a thorough testing of the project to ensure that high quality code and software is developed and delivered. Besides being well informed, outsourcing software teams also ask lots of questions and initiate discussions about where the software will be hosted or how it will help in the business process while planning to start the project.
---
They are innovative and skillful: 
It is the nature of their job that outsourcing development teams mostly have a broader exposure to varied software initiatives. Soon after giving your project, you will find that the active team will start thinking for innovative solutions and will look at different ways of building your project, solving the issues and also overcoming the challenges. Since they work on more software required by different industry verticals, they gather more experience and become better.
---
They are aware of the latest trends and technologies:
An expert software outsourcing agency will always keep its team updated and they just know and understand the latest updates and trend in various technologies. Good teams will always determine the best technology to develop your software among the many choices and they are also open and free to consult with the client, so that it brings greater value to the final software application.
---
Do they have shadow workers?
You will often find that reputed software development companies will always have shadow workers on your software team, and they are responsible to review the team's efforts and work. Most software outsourcing companies follow this practice and if someone leaves the company, another developer can quickly replace them and take charge of the work. This helps in maintaining the continuity, so that things are not interrupted and there is a hassle free completion of the project. This helps to complete the project within the stipulated time frame.
---
Team of diverse talents:
Your reliable software outsourcing team will have a team of diverse talents. True solutions come into effect when experts having varied experiences come together to handle tough challenges. Hiring a software development outsourcing team often helps to work in diverse areas and make a great impact on the business. When a team has varied experience and backgrounds, they are able to contribute to making the best possible software solution.
The prime advantage of hiring an outsourcing company in India is the perfect combination of cultural affinity and cost effectiveness that most probably no other region can ever provide. At IDS Logic, a reputed IT outsourcing company in India, we focus on highly qualitative, cost effective and timely delivery of software development solutions that gives your business an edge over the competitors. All our services are geared to deliver outstanding results that surpass your expectations and we maintain the truthfulness, collaborative approach and complete transparency while building the project.
"So, hire our software outsourcing developers and make a difference in the marketplace."