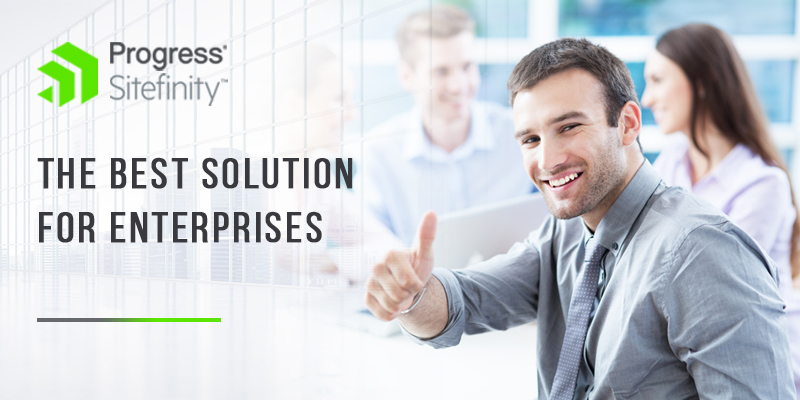 What Makes Sitefinity the Best Solution for Enterprises?
While planning to develop a website, the first question that comes to your mind is which CMS should be used to develop the site? Though there are numerous CMSs available in the marketplace and some are there for free, yet it is important to consider a specific CMS that offers rich features and functionalities to make your website distinct from others.
Since online business is very competitive, so choosing your CMS carefully is essential. One of the most popular paid CMS is Sitefinity. Yes, it is paid, but there are good reasons behind it and it offers value of your money.
Sitefinity offers some great features and advantages to the developers and administrators and it is a great way to ensure that your business website can grow and also change according to your business needs.
Since your CMS is the place where all your web content will live, it should offer immense flexibility to develop, manage, publish and edit every piece of content that is related to your business.

---
Let's go through some of the top features that make Sitefinity CMS development the best for enterprises:
---
Supports Mobile Strategy:
With more and more people accessing business websites via mobile devices and downloading various apps to purchase services or products, it is becoming important that your CMS supports the mobile strategy.
"Sitefinity helps to build mobile optimized websites without any hassles and allows the developers to create responsive designs so that it can be accessed from any device."
---
Multisite Management:
With Sitefinity CMS development, you can now launch new websites very quickly and also reduce the time that it takes to upgrade, maintain and also add new features across all the sites. This is possible due to the single code base and its support for multisite management.
This also reduces the hosting infrastructure and costs of managing many websites as it can be controlled from a single place and also shares the content, templates and users and settings across sites.
---
Multilingual Support:
If you have plans to target the local markets and grow your business and connect with the customers in their native language, then creating websites that offers multilingual support is best. With Sitefinity development, you can now localize your web content and enable your global marketing team to effectively manage all language versions of the page, digital assets and content items from a single place.
This is also very helpful for the editors as they can leverage the options to upload videos, images, files and documents in multilingual versions and also have complete control on how the site appears locally.

---
Security:
This is another major factor that should be considered in Sitefinty as it offers great control user access to the web content and functionality within Sitefinity. The advanced security feature helps to monitor the user activity within the system, ensuring great transparency and accountability.
Highly secured enterprise websites can be built that supports the best practices and security standards. Both security and compliance are two most important core features that should be considered while designing a website using the Sitefinity platform.
---
Scalability:
Creating complex business websites, multisite solutions help the marketing team to manage many websites together that contains thousands of pages and various content items from a single control system.
As your business grows, your requirements also grows and Sitefinity offers great scalability that helps to handle the growth of your business in a load balanced environment without compromising the performance or even requiring any additional investment.
Also Read: How to Make Your Sitefinity Website 200 Times Faster?
---
SEO Friendly:
The prime target of your business is to reach out to more and more audience and this can only be done if you attain a higher ranking in the search engines result page. For this, it is important to create a relevant and keyword rich URL for the pages for better usability and SERP ranking.
Sitefinity CMS development helps to create an SEO friendly URL so that you can boost your traffic. The CMS handles it without any technical assistance from the sitefinity developers.
Sitefinity CMS has evolved a lot since its first release and today, it is used by thousands of top brands for its robustness, scalability, flexibility and rich features.