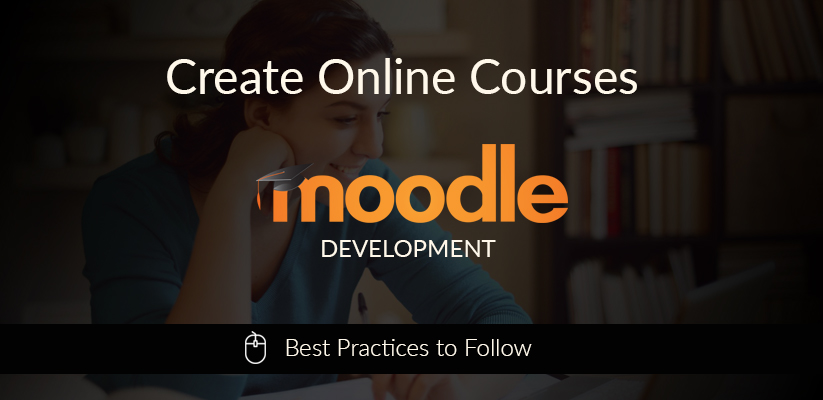 Create Online Courses with Moodle Development: Best Practices to Follow
E-learning is growing at an exponential rate and today, most educational organizations and businesses are looking forward to harness the power of online training programs and courses. There are many LMS platforms in the marketplace and Moodle is one of the most popular that is used to develop and publish online courses. Its open source nature and free to use features have contributed to its growing popularity.
Those who are seasoned educators, teaching can be a breeze for them. But with technological changes, students and professionals are looking for more options of learning that can be attended from anywhere and even while on the go. For many people, the thought of travelling a long distance from home to attend the classes can be very tiring and frustrating. So, an online course is of course a better option.

In today's blog, I will share with you some best practices that you should follow while creating online courses for the first time.
---
Organize your course material properly:
It is very important to have a proper plan of your course material. It is easy to add files to the course, but it is also easy to lose the track of where they are actually coming from. You should take the advantage of a file repository system to load and store all the course files, so that it is easy to link the course content while you build your course structure. Do make sure to take a backup and save the copy of your hard work as it will make things easier for you later on.
---
Prepare a chart to keep yourself organized:
Things will constantly move and change in your Moodle development website and it is important to keep a track of the changes. Using a chart or preparing an outline to plot the scope of the course will make things easier for you as you can easily view what is missing and what you need to add.
---
Mix both asynchronous and synchronous elements in your course:
Mostly, online courses are considered asynchronous as the users can log in and log out at any time of the day. Most popular mediums of discussion are the forums. So, include a discussion forum each week or based on the unit of your course, if you find it to be appropriate. Though Moodle automatically includes a helpful "News forum" for course announcements, you can also add a "Help" forum for the students who have questions. Once you start to add more synchronous elements to your online course like chat room, live class sessions and screen sharing, then purchase a Synchronous license to add exciting levels of engagement to your online course module.
---
Make your online course mobile friendly:
Considering a mobile theme to design your online Moodle course will help you to attract more students and professionals who are willing to learn even while travelling. A custom designed theme for your smartphone browser screens will enable to present your current course site without any changes when accessed from different mobile devices. Students can access and interact with the course on their device anytime and anywhere.
---
Choose social networking for extended learning beyond the classroom:
Social media is very powerful and it is a great platform to consider to connect your courses to various social networking platforms, even outside the formal learning environment. You can include some add-ons into the course that will give the educators and the students an opportunity to remain connected even in an informal atmosphere. Users can easily create some groups and post status updates, write some blogs, do much more to remain engaged.