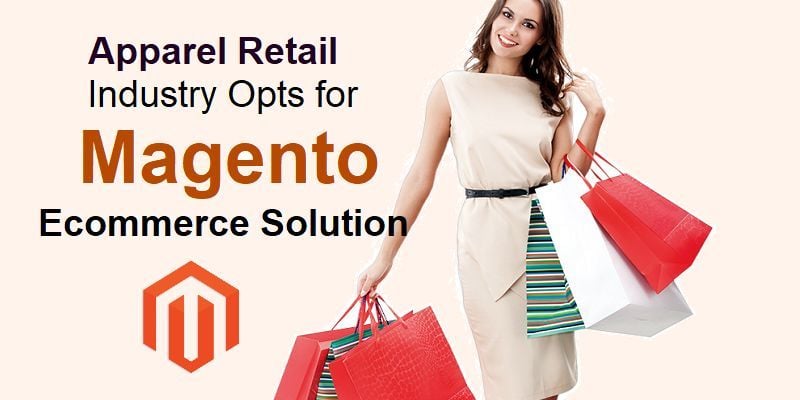 Here Is Why the Apparel Retail Industry Opts for Magento Ecommerce Solution
Magento is a leading ecommerce platform enjoying a huge market share across various sectors of online retail. With customers demanding a compelling experience, retailers are now facing the challenge of using technologies that can help them create a rich customer experience together with the business growth. With internet offering a big opportunity for the retailers to make them available to their customers always and offer them what they are searching. A perfect ecommerce development platform allows them to stay up with the market competition and enhance their reachability.

Now the question is, why most apparel retailers choose Magento development to build their ecommerce store? Since fashion apparels are all about reflecting uniqueness, it is very important to develop a flexible ecommerce store that can be a delight to your customers. Magento has proven its capabilities in the fashion and lifestyle space and has customers of all levels. Magento 2 is more geared to this sector as it comes with various new features for a more seamless experience and manageable content facility.
Over the past few years, I have worked with numerous apparel brands who have decided to shift to Magento. Here in this blog, I would like to outline some of the prime reasons for choosing Magento over alternative platforms.
---
1- Visual merchandising capabilities:
This is considered as a fundamental need for large apparel and lifestyle stores, who are unable to rely on any rule based merchandising features as they have to represent the present trends and also showcase a wide range of products. As per my experience this is the prime thing on the lists for re-platforming any ecommerce store. The latest version of Magento is great to use and enables the merchandisers to create rules that are based on product attributes that save a lot of precious time.
---
2- Scalable platform:
Magento platform powers some of the biggest online stores in the world and most apparel brands have considerable peaks around the seasonal trading periods, new collection releases and also marketing campaigns. It is very important that your website offers optimized performance even during peak hours and continues to cater to the ever changing customer needs. Magento 2 has been built, so that it is even more scalable.

---
3- Bluefoot CMS: 
Magento acquired Bluefoot CMS and this represented a good move forward in the area where Magento was found to be weak. Bluefoot CMS allows a widget based CMS and this has a drag and drop interface that helps to enhance the quality of pages and blocks that can be easily created as well as managed from Magento. This reduces the overhead of the merchandisers.
---
4- Create wonderful mobile experience:
Delivering unique shopping experience to the users is an important step towards successful business. With responsive designs, your users will be able to use the website from any device on the go and purchase various products. Magento offers great features to make this possible.
---
5- Personalization to boost sales
With Magento development, you can easily segment the customers coming to your website and deliver personalized services. You can create powerful incentives that are based on consumer demographics, geo location, prior behavior and also items that are viewed or even added to the shopping cart.
---
"Magento is a leading platform that offers features for the apparel and lifestyle space and is a perfect fit for middle and large stores. Its extendibility and scalability is its huge selling point, especially for merchants having big seasonal peaks."