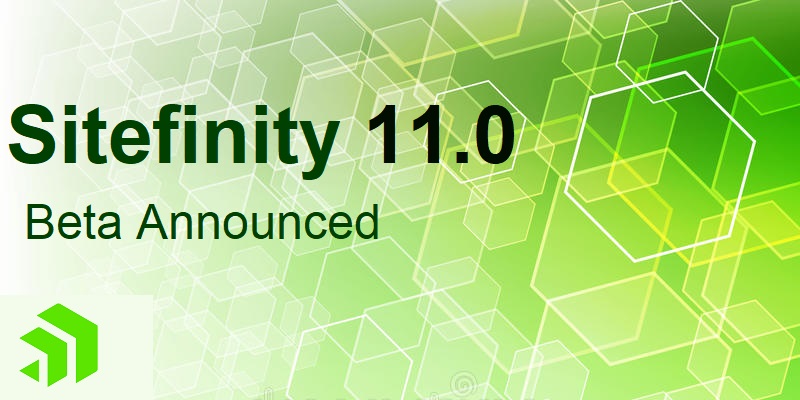 Sitefinity 11.0 Beta Is Available for Download: Here Is What It Has to Offer
Sitefinity is the most popular CMS that comes with rich features and functionalities that are used by business owners to keep their website updated.
Sitefinity has also helped online marketers to make improvements by releasing newer versions that comes up with many new updates and also with some errors fixed and improved of the previous version.
Sitefinity 11.0 beta version is now available for download and it has come up with various update features for use.
Sitefinity 11.0 Beta-Here is What's New:
Web Security: 
The latest Web Security module adds another protection layer to your site and it uses the HTTP response headers so as to configure the client' browser and turn on the built in security feature.
Once this is set, the headers can actually prevent from clickjacking, cross-site scripting, stealing or modifying the data during transit, code injection and many more.
The website administrators can now control which headers are enabled due to the configuration setting.
---
Content Editing Experience:
The content editing and management experience are now switched on by default for all the projects that are new. For the existing ones, the administrators can now switch on the experience and enable individual users to switch between the classic and new interface.
The latest editing experience serves content editors and creators by keeping content center stage. The editing area can now accommodate more content and interacting with the content will be easier. The clean design has transformed the boxes into modern UI components.
This improves usability and also readability.
---
Digital Experience Cloud (DEC):
An application name is no more required while configuring the connection between DEC and Sitefinity CMS.
Sitefinity tracked data are considered as Website data source in DEC by default and users can modify the default setting name.
This can be done in the Advanced settings section of the DEC connector module.
DEC also offers new Service endpoints that allow deletion of the website visitor data that is stored in DEC.
Also Read: Connect to Sitefinity Digital Experience Cloud to Enhance User Experience
---
Developer Productivity: 
The latest Sitefinity VSIX is focused on the creation of Sitefinity MVC templates and widgets, which is the optimal choice for development in Sitefinity.
This helps to add MVC package to your project, grid template, MVC template and MVC widgets.
This extension is compatible with Visual studio 2015 and 2017.
---
Support for .NET 4.7:
Sitefinity 11.0 will offer full support to .NET 4.7.1 and this change will help to improve the productivity of business websites and also resolve many errors faster because of the new features of C#7. 
Some other big features of the framework are support for the .NET standard 2/0, improved performance of garbage collection, security improvements.
This ensures that the developers have everything to code more productivity.
---
The MVC Framework:
The MVC widgets are now default options in the pages toolbox. The content widgets can now automatically display a single content in Detail view. The ContentViewDisplayMode allows to modify this behavior and configure if single content items are to be displayed in the Detail or List view.
"With the latest beta version, developers will now be able to add more features to websites and offer greater control on the content of the site."
---