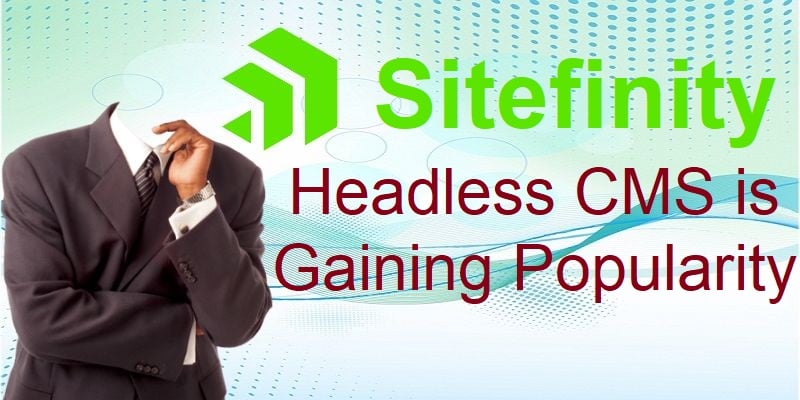 Sitefinity: The Headless CMS Is Gaining Popularity
With the need to deliver content rich digital interactions on web, mobile and other areas, application development professionals are now adopting the API first approach. They are now adopting new headless content management CMSs.
"Headless CMS has become the latest trend in the industry right now and it has great reasons. Customers are now asking for content that can be easily delivered in more ways and also across varied channels."
And on the other hand, sitefinity developers also love to have more freedom to use the best framework for building an app. Headless CMS stores the content in a ready for any purpose format and offers an easy access through stateless APIs for delivering, authoring and analytics. It also takes complete advantage of the cloud.

Sitefinity is a headless CMS and offers robust APIs and OData RESTful endpoints, it makes easy for you to deliver content to any device.
Sitefinity was actually developed with this headless practice since its beginning and has also gained much popularity for its immense flexibility and capabilities to easily integrate with numerous technologies. When you use Sitefinity as a Headless CMS, the designers, authors and the editors can easily create the content through the Admin panel that is saved in the Database.
---
If You are Looking for Headless CMS, then Sitefinity is Best
Choosing Sitefinity as a headless CMS will offer huge benefits to your organization in varied ways and the most important one is the cost reduction and the time to market. A headless CMS uses stateless interfaces, modern storage, cloud infrastructure to deliver internet scale content experiences on any mobile devices efficiently.
Also Read: Get to Know the Latest Features of Sitefinity 11.2 Release

A headless CMS offers native content authoring and also experience previewing, but at the same time, it can be easily integrated with other authoring environment for example Adobe's Creative Cloud.
---
1- API First Approach: 
Sitefinity is able to deliver content to any device like smart watches, mobile phones and also refrigerators. The different types are automatically exposed through OData services and Sitefinity SDK and the time to market your services are also reduced to a great extent, unlike any other solutions, developers have greater flexibility and also control over the data.
---
2- Improved Customer Experience:
The most important challenge that organizations face while implementing headless CMS is the inability to optimize and even track across customer touchpoints. But with Sitefinity Digital Experience Cloud integrated into your headless experience, your organization can now easily track and analyze the customer journey on any device.

---
3- Content as a Service:
This is also known as headless in the cloud and offers a smooth Sitefinity deployment. With support from Azure and Amazon cloud options, organizations can implement a headless strategy on any private or public cloud with very less effort or some advanced work.
---
4- Creation of Content:
You can now prepare modern and user friendly content and management capabilities that companies around the globe use for a headless project. It is by choosing Sitefinity CMS development that organizations can easily manage their content and authors can create it for various channels without any additional work.
"When we talk about creating content, there is a need to define various workflow strategies that can be accomplished effortlessly using the Sitefinity's workflow system. Modules that come with Sitefinity like Multilingual, SiteSync and Multisite are great additions to the APIs."
---