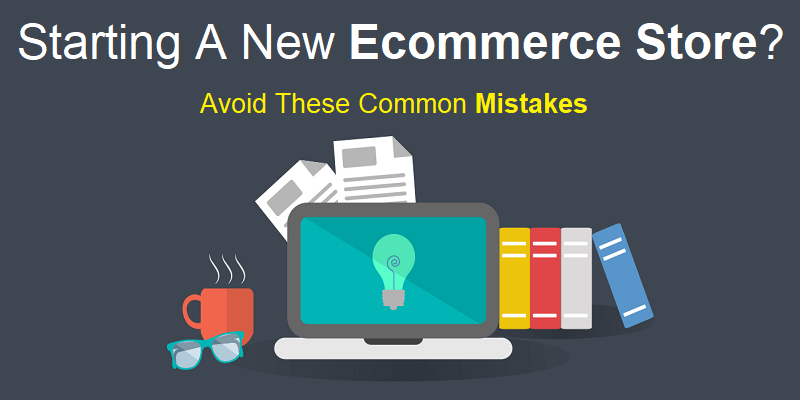 Starting A New Ecommerce Store? Avoid These Common Mistakes for Success
Numerous things have changed with the advent of online shopping and the ecommerce industry is at its growth peak now. Even a few years back, I was not aware of about ecommerce. But after I had done a course on ecommerce, I decided to try my hands at running an online store. Getting into ecommerce has been a wonderful experience as I learned about various challenges while running a business online. The lessons that I have learned were all from the mistakes that I had made. So, today I would like to share some of those common mistakes that you can easily avoid to succeed faster.
---
Not Understanding the Target Audience:
This is the basic mistake that most online business owners make. They build the product and launch it in the market without having much knowledge on the needs of their target audience. Marketers usually go on a creative spree without doing ample market research to see the latest styles that would actually perform. Though there are many new ideas that you would find interesting, but at times it may make it harder to generate higher profits. So, it is important that you spend some time to understand your customer segment and identify effective marketing techniques and promotional campaigns for success.
---
Not Taking Site SEO Issues Seriously:
Search engine ranking plays a great role in the success of most businesses and it is true that attaining a higher ranking leads to increased business traffic. SEO is a long term strategy and investing time and energy on it continuously would lead to increased visibility, branding and credibility. You can select specific channels for promotional campaigns and trim down on budgets on low performing ones.
---
Not Having the Right Promotion and Marketing Tools:
Your ecommerce platform may not be the one to meet your varied marketing and promotional needs. Many ecommerce website development platforms offer only limited marketing functionalities. Businesses often choose limited marketing functionalities due to strict budget constraints and failing to support your ecommerce platform often leads to improper marketing and a failed business. Today, most marketing and promotional tools are packed with advanced functionalities that are capable of identifying the customers and can send targeted messages to them. Magento is a rich ecommerce platforms and if you hire a Magento development company for your project, they can help to integrate various functions that will attract more customers and also convert better.
---
Not Having a Content Plan:
Ecommerce business owners often give more importance to images and forget that content too plays a vital role in getting organic and social traffic. It is by developing a content marketing strategy that revolves around the ideal customers rather than the products help a lot to connect with the audience. Having things in common with your customers will help you to sell your company information and products to your customers.
---
Underpricing or Overpricing the Products:
It is very important to financially analyze what it takes into account shipping, returns and also the overhead costs of properly pricing the products. Due to improper pricing you may either lose money or business opportunities. Try to do a little bit of research about your products and competitors and check the price that they have tagged.
---
Unclear Call to Action:
It is very important to tell people what they should do on your site. Providing some buttons and links to help your visitors navigate through the site will help them to convert seamlessly. And this is why it is vital to test and refine your calls to action.
---
Failing to Retarget Your Customers:
Web visitors who are retargeted with personalized messages are more likely to convert to sales and retargeting often leads to a 147% higher conversion rate when used in combination with prospecting. Implementing retargeting strategies to target your customers either through emails or ads should always be an integral part of your plan. This will help in converting the lost customers by understanding their behavior. Using some retargeting tools may help in getting customers related to specific products that they were actually looking for.
---
"Whether you are new to ecommerce or a seasoned pro, adapting to the changing ecommerce industry is important. Avoiding the common ecommerce mistakes will surely help to take a good start."