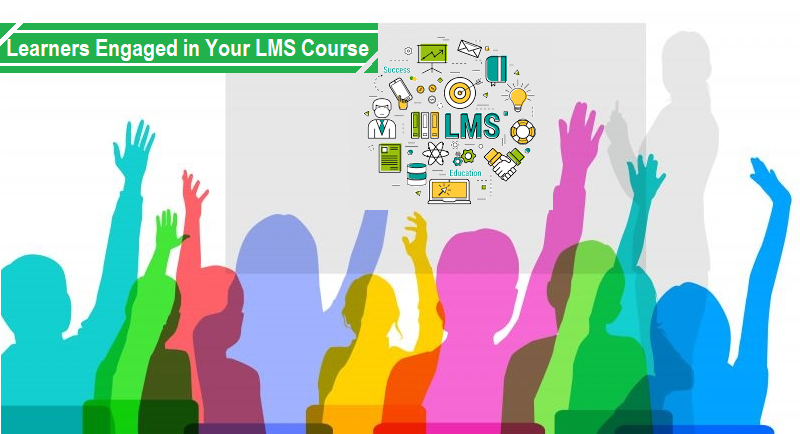 How to Keep Your Learners Engaged in Your LMS Course
A lot of discussion is going around the e-learning industry and the importance of keeping the readers engaged.  But crafting a learning experience that can keep your learners engaged is definitely a big challenge. Online learning is all set up in the LMS and if learners are not interested, then chances are high that they won't complete the course. Now the question is, how can these students be motivated and engaged to be successful?
Engaging the learners is an essential factor as it helps them take away more from a training course. They are able to apply to new jobs and are more likely to exhibit their post training performance. And with increased user engagement with your content, you will now be able to ensure a higher return on investment from your training initiatives. Let me share with you some of the effective means to deliver information that will keep your readers engaged.
---
Use simple language and visual stimulation:
The benefits of e-learning are that it can be presented to a wide number of learners. Using simple language for your content is vital because it will make your training effective for a variety of users coming from different educational backgrounds and experiences. Contrary to creative writing, your training material should be able to deliver information that is clear and easily understandable. Besides all these, you should also add engaging imagery and graphics that can add clarity to your concepts. Adding some visuals will surely improve the learner's engagement and they will dig deeper for content in your LMS.
---
Start a social media group:
It is a good idea to create a social group during the e-learning course, so that the learners can join online discussions. However, the group will also serve as a valuable resource after they complete the course. They will be able to share helpful resource links, peer based feedback and various other information. The more they get involved in conversations, the more they will remain engaged with the LMS course.
---
Use micro-learning:
Micro-learning is bite sized training resources that can easily be digested by the students. A 3-minute task simulation or an infographic showing important facts and figures is of great help. Online learners will be able to access and understand bite sizes training resources and improve and refresh their knowledge. All the training resources should be branded with your logo and contact information.
---
Ensure that the learner is a part of the story:
This means that your lessons should have elements like role play that enables the leaders to interact on a more personal level with the material, instructor and other learners.  If the lesson includes anything that is challenging, then incorporate a story flow that involves the learners and helps them show the pitfalls and payoffs of proper decision making.
---
Interactive and relevant content:
Training is very effective if the learners find the content relevant. So, include as much information in your LMS courses so that the training attracts the learners and they gain benefits from the course. One more point to consider is to add interactive elements in the course for an engaging learning experience. You can introduce some question answer sections or more involved interactive branched scenarios.
---
Offer free navigation:
One thing that frustrates the learners is locked navigation. It is very important that the customers, make sure that the learners are able to see all the information. Many people find it difficult to learn because they are forced to see specific content. Instead of doing this, you should give them the freedom to explore the content so that they can learn more and also make decisions.
---
Use H5P:
Adding fresh content that would help boost engagement is always the prime focus of LMS. But adding graphics or hiring a content building expert is not possible always. Using H5P is a plugin that is used by both Moodle and Totara and it guides the trainers, instructors and manager to become expert content creators. The plugin guides them to create interactive content that includes presentations, games, videos and etc.