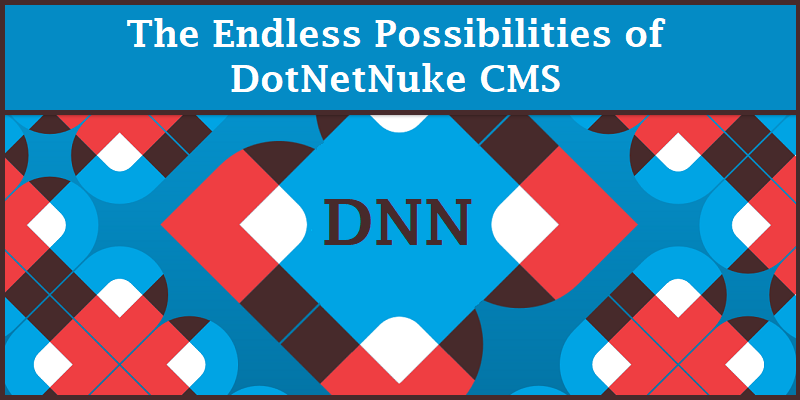 The Endless Possibilities of Dotnetnuke CMS
Founded in the year 2006, DotNetNuke or DNN offers website developers to build and manage feature rich sites that are very fast, easy and also cost effective. Having worked with various clients from varied industries, who are looking for a CMS that allows greater management of web content without technical knowledge, I have suggested them to choose DNN, a free platform that offers great features and extensibility though a large number of third party apps that are not included in the core modules.
The professional edition was renamed as Evoq Content and the Enterprise edition as Evoq Content: Enterprise.  Evoq 9 includes the key technology of Liquid Content, a prime content-as-a-service platform that is delivered as a micros service through the DNN's Liquid Content Cloud.
Together with the content rich features, there are other technical aspects like tooling, versioning, hosting and etc. and we need to think about the various types of users who will use the doc, their intent and how to structure their content journey so that they can readily accomplish their business goals.
---
Comment for DNN:
An end user stated that, "The product is relatively easy to use and the several editions including the community was great.  The active community support out there means that you will easily find answers to your questions without facing any challenge. There are lots of free training videos, which makes its usage easier. Another most important feature is that DNN is supported in PaaS in the MS Azure environment."
---
Differentiators:
DotNetNuke CMS is an open source platform that is available for both free and paid versions. With an extensive developer's community, where thousands of modules and themes are available, it offers an extensive ability to cover all aspects of the business and make it run successfully. Some of the best websites on the internet have been developed using the DNN CMS framework and it is continuing to get better every year.
The skins, modules and default layers are constantly improving and the skinning engine of the framework is absolutely flexible and easy to use. Besides all these, the security groupings, role and access assignments for dynamic content are easiest and most flexible of all the CMS platforms.
---
Is DNN a Better Choice When Compared with WordPress, Joomla and Drupal?
DNN Vs WordPress:
When users compare DNN to WordPress, they often find that DNN CMS is a lot more powerful and easy to use. WordPress is easy to install, but with DNN Evoq Cloud Edition, things have become better for DNN too. Many individuals feel that WordPress is an organized CMS when compared to DNN, but we at IDS Logic disagree, WordPress has not changed much in many years, while DNN has come up with latest versions.
Since it is based on .NET, it means that every developer can easily build and customize the site without issues.
---
DNN Vs Joomla:
Choosing between DNN and Joomla may be a difficult task as both continues to improve as a CMS. But as Joomla started to gain momentum, Magento came to the market and stole most of the shares. Joomla is written with PHP and offers great functions that may be a bit tricky to use.
It is comparable to DNN. Depending on which system you are using, your budget, the support that you want, you can choose any one of them.
---
DNN Vs Drupal:
When compared, people have stated that DNN often works better with IE and Drupal is a bit better in Firefox. Both of them are open source and free. Extensibility is DNN's prime focus and it is supported by the largest collections of third party modules from various vendors. DNN also delivers specific features as a service delivered from the Microsoft Azure cloud.
---
How IDS Logic can Help
As a full service development company, it is our lifeblood to offer solutions to our clients that meet their specific requirements. With great expertise in DNN development, our team members can build a rich and functional website based on DNN CMS with required customization assistance. Not only this, we also offer complete and professional DNN support services by analyzing and resolving the issues that you might face.