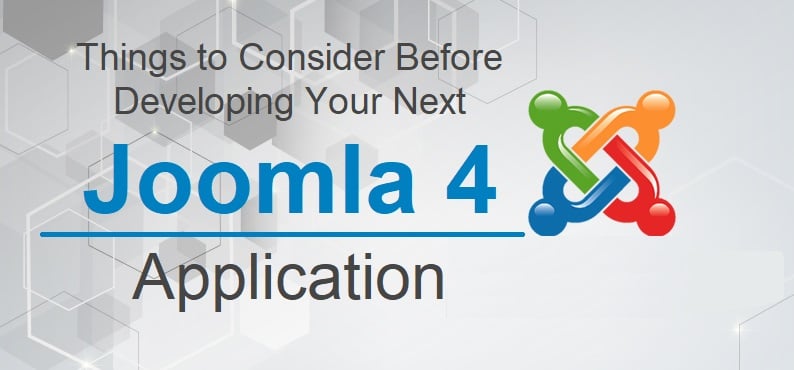 Things to Consider Before Developing Your Next Joomla 4 Application
Are you planning to develop a Joomla website for your business? You may be really very excited and eagerly waiting for it. But have you given it a second though about the things that you need to consider before you start.  What are the essential things? Thinking big and having a broad vision often prepares every business to face the challenges and barriers they come through. 2018 expects a lot from the Joomla developers and the users are also looking forward to the advanced templates and Joomla extensions. The latest release has also come up with newer hopes and higher trust. But how can you get the maximum out of a Joomla development this year?
Here in this blog, I will share with you some interesting tips to prepare for a successful Joomla development process:
Do a Market Survey and Understand the Trend
Before building a Joomla application, try to understand what your competitors are doing and the areas they have focused on. What works and what doesn't? From this, you can frame up your opinions and also understand the needs of the visitors. This will surely help you to gather knowledge on what is new, the latest trends and what is going on at the current time. Few design trends of 2018 that you need to note are the image Joomla extension, mobile templates, use of color and cinema graph background.
---
1- The server requirements:
Before you start developing an application on Joomla version 4, you need to carefully verify the server requirements and for this, you have to check your hosting provider before updating. Before you update to the latest version of Joomla, you need to upgrade to PHP7.0, MySQL 5.5.3, PostfreSQL 9.2. Besides these, you should also check all the technical requirements so that you enjoy a smooth updating and developing process.
---
2- Have a backup of your Joomla site:
Backup is very important for recovery. Whether you want to update to the latest version or launch a new application, backup helps to save everything that is present on your site when you face any trouble. So, create a backup of your Joomla website and also remember to test your recovery function so that there are no issues.
---
3- Coding improvements:
Before you start with Joomla development, checking the code structure is vital. Having a clean and stable structure will help you to change any codes following the latest version of Joomla. Lots of improvements are needed in the codes and dedicated Joomla developers will learn how to get along with the Bootstrap 4, PHP version 7 and have to adopt all the best and latest technologies for the coming Joomla application.
---
4- Attention to improve page builder:
The improvements in Joomla 4 needs any developers to flexibly improve the Page Builder and also think about a new easy page build that enables the users to set their Joomla websites with fun and ease.
---
5- Knowledge of the latest Joomla 4 features:
As a developer, it is very important to follow the latest features of Joomla 4 so that you can code or style your application according to your needs. The templates and extensions can also run smoothly and in case of any issues, they can be sorted easily.
---
So, if everything is fine now, you can go ahead with creating your website and bringing it to life with latest Joomla features.