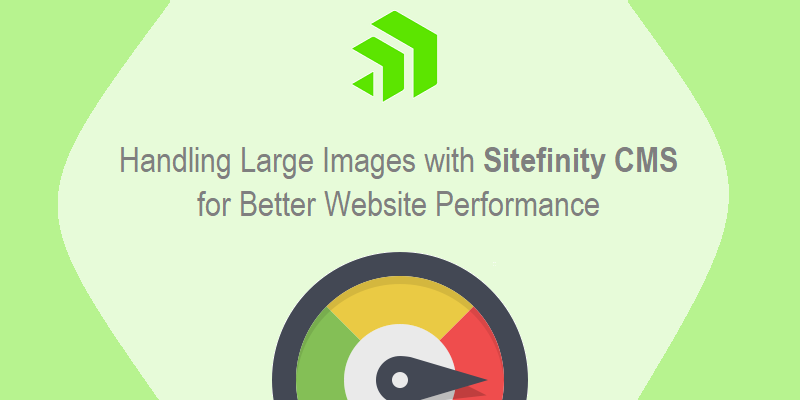 Handling Large Images with Sitefinity CMS for Better Website Performance
In Sitefinity CMS website, there are various instances when you might have to use images to make it more attractive to your audience. Loading of images is always a time consuming task and then your audience might not give you much time if your images take a lot of loading time.
We all know that effective pages always have to look great and it is also vital to place images appropriately. However, we also know that images are also the ones that degrade the performance of your site and managing them on your Sitefinity site often needs expertise.
To make your web pages attractive to your audience, you might need a hefty picture for a full screen background effect.  Many sites load big images that are displayed in small pixel windows. Resizing those images, so that they fit the intended display area can help save a lot of time and this is where Sitefinity CMS helps.
---
How Sitefinity Works for Big Images?
Each time your select images to be uploaded on your website, Sitefinity CMS can generate automatically various versions with pre-determined and different sizes. These sizes are available for the developers to drop into the pages or work with in the templates.
For example, the images can be
150×150 px news list thumbnail

300x300px article thumbnail

600×300 px full article header image
All the developers have to do is to upload based on the predefined dimensions and Sitefinity platform does the work for scaling, cropping and also saving the files for each dimension.
Here is How You can Get Started:
---
Set the Dimensions for the Images:
Here you can tell Sitefinity about the sizes to create when you upload any image for your site. This helps to determine the dimensions beforehand, but it always gives you an option to add new sizes later.

---
Set Up a Plan:
It is recommended that you make a plan to organize your images into specific libraries or folders as this will help to automate the process more effectively and will also help you find whatever you need later on.
---
Upload the Images:
Once your dimensions are fixed, Sitefinity will know what exactly your need when you start uploading. As long as your load your images to the specific libraries, Sitefinity CMS will take care of the rest making a daunting task easier for most casual content editors.
In case you are not doing this, it is time that you consider giving your images some time and make their dimensions as per your website so that it increases the performance. Hiring a reputed Sitefinity development partner would help as they have gathered huge experience by handling various projects.  They can also offer full service Sitefinity support, that would help to analyze the requirements of the images and find a cost effective and efficient solution
Partnership with a reputed organization will help your website perform in a better manner and the experts can help you by guiding to choose the best dimensions and set them accordingly so that they get loaded fast and reduces the waiting time of your visitors.
Related Blog: Is Your Sitefinity Website Slow? A Big Image May Be a Big Problem
---
"Business web pages should always look great and images have a great role in making them look attractive. With Sitefinity CMS, it is easy to specify the dimension beforehand and then allow the CMS to set it according to the requirements so that the performance of the site is not affected due to huge images."
---