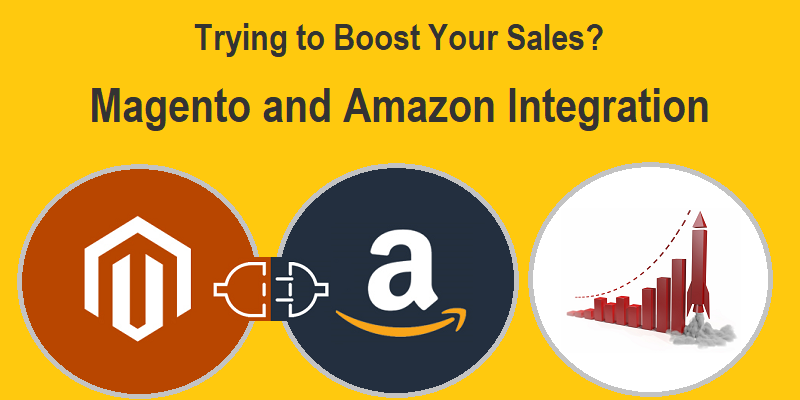 Trying to Boost Your Sales? Here Is How Magento and Amazon Integration Can Help
It doesn't matter how beautiful your Magento website is. If it doesn't drive sales, then all your investment will slowly drain our without generating any sales and profits. If you are willing to get the best outcomes for your business, then working together with Amazon will increase both your efficiency and profits. Last year, a whopping 44% of all ecommerce sales took place on Amazon.
So if you still have a doubt in your mind, then you might be missing on a huge market base. Omni channel ecommerce enables you to increase your overall sales and profits and what can be better than Amazon that already has a huge customer base that can scale your business.
Before you decide, know the major benefits of Amazon-Magento integration:
---
Linking your Magento development ecommerce store with Amazon will help you to save much of your valuable time and allow you to focus on other important aspects of your online business. But, how?
Instead of having to manage everything on two separate platforms, you can now easily channel your energy into a single integrated solution, which will help you to upload your varied products and manage your inventory from a single dashboard. This simple integration will not only save much of your precious time, but it will also save your money.
How you can use the combined power of Magento and Amazon
---
Avail the benefits of Amazon sales tools:
Amazon comes up with a number of tools that are specifically designed to increase your sales. The tools help to take advantage of proven sales psychology like price anchoring and this makes the customers feel that they have the best deals before them or at times have the sense of urgency generated about purchasing.
Are You Looking to Hire Dedicated Magento Developers?
---
Increase visibility:
Integrating with Amazon helps you to increase the visibility of your products. Since Amazon has a huge customer base, your products will also be highlighted before them throughout the day irrespective of the time and location. Your product will be visible 24X7 and this will surely increase the chance of selling the products to your customers.
---
Optimize your list for highest search exposure:
Amazon can be considered as a massive search engine because with thousands of products under various categories, most shoppers find their products via search. If you are aware of the right listing optimisation strategies, then you can increase the chance of showing up your product on the first page of Amazon search. Some strategies include:
Find high search volume keywords for your products
Optimise your descriptions so that it attracts Amazon A9 search algorithm
Price your products aptly
Write a headline for maximum CTR
Also Read: Importance of Building a Landing Page for Your Magento Store
---
Use the Fulfilment by Amazon program:
The FBA program of Amazon helps you to send your product to the platform and allows Amazon to handle the distribution logistics. Considering that you meet all the desired qualifications, the participation makes it probable for your products to be Amazon Prime eligible.
---
Consider multiple marketplaces: 
Choosing Amazon for selling your products opens up numerous marketplaces where you can easily sell your products.  Integrating both Magento development and Amazon will enable you to easily have all your products listed across a huge marketplace in Europe, North America and etc. Normally to reach such markets would require lots of advertisements and enough content that would attract the organic traffic via search engines.
Also Read: How to Provide an Excellent Customer Service Through Your Magento Store?
---
Repeat business at its best:
One biggest challenge that standalone Magento ecommerce stores face is to earn repeat business. Unless you are a very popular brand, you have to spend a lot of advertising money to get repeat customers. But this is not the case when you sell on Amazon. When someone purchases a product form there, they usually don't forget and may also recommend the product to others in the future who follow similar choice. Thus, Amazon helps to re-target the customers and increase your business sales.
---
"Selling your products on Amazon gives you a better chance to become a successful ecommerce store owner. It gives you access to sales tools and also a huge market base that you won't be able target without spending a fortune on advertisements and promotions."