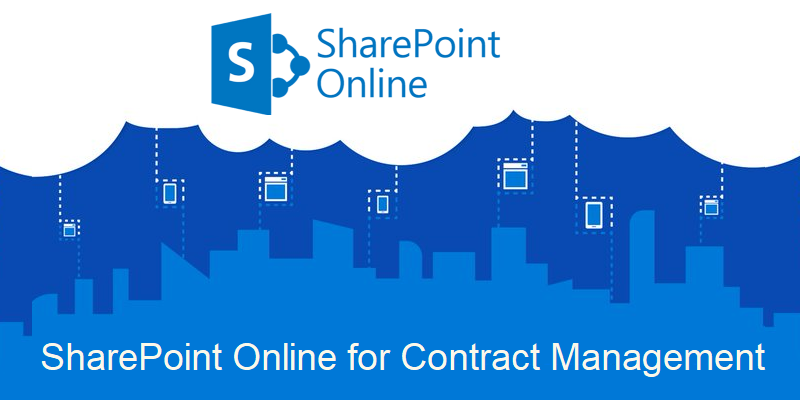 Can Small Business Owners Use SharePoint Online for Contract Management?
Whether you are the owner of a small business or a large enterprise, contracts are the lifeline of a company. And managing them is very important and can at times be a daunting task requiring careful considerations. Business owners should spend some time to evaluate proper contract management tools.
There are various vendors that are platform independent and there are some who depend more on Microsoft SharePoint to fulfill their task. Choosing a perfect solution that blends with your existing IT platform has its own advantages, and organizations are able to achieve greater cost efficiency by using it.
Did You Know That You can Use SharePoint Even for Your Small Business?
Contract management often becomes very complex with the growth of your business and there should be a scalable system to manage them. It should increase the efficiency of the business operations and ensure that compliance is met throughout the process.
"Now the question is, can a small business rely on SharePoint for managing its contracts?"
The solutions offer a centralized storage and this helps to quickly approve, retrieve, and share the it and other related documents. This saves a lot of time and is crucial for small businesses having lots of work to manage but with limited resources. Contract management is a must for small businesses as it helps in the growth and expansion of the business itself.
Also Read: Use of SharePoint: Some Advantages and Disadvantages
It is good for a small business to select a solution that can be deployed in the cloud as cloud based software is affordable even for small companies. The costs are reduced because they need to pay for a subscription without investing into the IT infrastructure.
SharePoint Online Contract Management:
Office 365 offers great opportunities for external and internal collaboration, file storage, analytics, emailing, project management and etc. that makes it universal for office jobs. Office 365 can automate the contract's lifecycle right from the creation to termination and retention and this is possible only because it has all the major component needed for an efficient management.
Contract Creation Workflow:
SharePoint offers an effective interaction between the financial staff or manager during the contract authoring through intranet discussion boards. It is easy to create and store them in SharePoint online as the platform is integrated with Word already.
---
Templates:
There is no need of creating contracts from the scratch in Office 365 as SharePoint online allows creating, storing and then reusing the templates for different types of contracts. For example, the non-disclosure of agreements can easily be created within seconds and they don't require modifications from a relevant template. SharePoint also makes it easy to store and reuse the fields and the clauses. This helps to maintain the consistency in business and also improves risk management.

---
e-Signature:
SharePoint can easily be integrated with e-signature software like DocuSign and etc. The integration helps to eliminate the need for any wet signatures or in-person meetings. The process becomes digital, but the contract remains legally binding. This makes closing any deal faster than before.
---
Alerts and Reminders:
SharePoint allows the users to pre-schedule some automatic reminders related to the agreement's status and its milestones. When an important date approaches, the users will receive an email notification and this helps the users to avoid any unwanted automatic renewal, which is usually quite common in purchasing process.
Are You Looking for SharePoint Migration and Upgrade?
---
Approval Workflow:
It supports horizontal and vertical approval workflows of various stages and complexity. The approval workflows are usually rule based and it automatically routes a contract to a specific person for approval and the dashboards reflect the present status as new, pending or approved.
---
Access restrictions:
SharePoint supports the access control and ensures high security of the data. The access depends on various permission levels that are granted to individual users or groups. It protects the agreements and all the related documents against any unauthorized access, viewing, sharing, editing or deleting.
"Thus to conclude, the SharePoint Online contract management is inexpensive, easy to use and also integrated well with other software and that is crucial for small businesses. The platform also ensures effective management for authoring, negotiating and reviewing and scalability, thereby making it a perfect solution for small business owners."