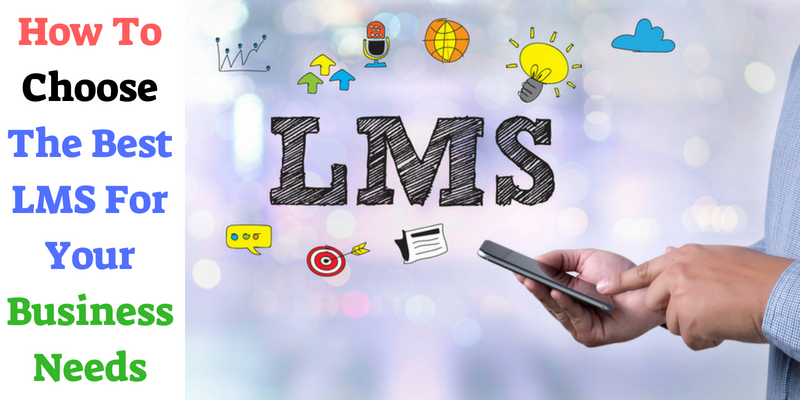 How A Learning Organization Can Choose the Best LMS for Their Specific Needs
In today's technology landscape, there are various products for every business needs and the world of learning and training is no exception. An educational organization has many unified delivery systems for scheduling the online courses, classroom courses, descriptions, tracking and etc. It becomes very difficult to roll out all the tasks without a proper Learning Management System.
And choosing the best option available in the market can be really a hard task to ensure that you are picking the best platform for your specific business.
Though most of the LMSs look and sound the same, but each has its own features and functionalities. It is very important to map out the structure of your chosen LMS so that you can evaluate each option against your specific requirements.
Here is what you should know to ensure that you have the best LMS for your specific business needs:
Initial analysis of your LMS needs: 
The first thing that you need to consider before even starting the shopping around process of your LMS is to understand your specific business needs and the way you are trying to solve it within your business. Some questions involve, are you planning to introduce e-learning, or are you looking for an upgrade of your existing LMS? Both the sets will have different problems that you are trying to solve and it is very important to find the reason why your current system is not working.
Tips to Use Personal Learning Paths to Supercharge Your LMS Strategy
Considering a demo with your software service provider will help you to have a clear understanding of your present problems and how they can be solved.
Features and functions that you want in your LMS platform:
Though most LMSs offer a wide range of features and tools with the base package. but there may be all that extra information that might clutter your system. So, it is good to choose selective add-ons and tools that can help your business to avail the best benefit of your LMS. There are some LMS platforms that will offer few features that can be customized to fit your branding guidelines. For this you should be sure about what your learners are actually looking for to make the best decision on LMS selection.
Read some reviews about the LMS of your choice online:
If you are willing to find out how good your LMS is, then it is important to do some research work on the net and read the reviews from different users. You can view the review sections on each of the LMS platforms and also check both the positive and the negative reviews for a better and impartial idea. Getting a complete picture of the potential of your new LMS platform is important and reading some current and past customer's experience is a great means to gather some extra insight.
Define the learning objects that your will be creating:
Are you going to publish all your courses for the same standard? Different LMSs support different standards like some may support SCORM 1.2 and some other may support SCORM 2004. Selecting any LMS without understanding the courses that need to be published will only become a bitter pill to swallow as all the modules or learning courses that you have created before the LMS implementation won't run successfully because they are published on the standard that is not supported. It is better to test several LMS implementations that are available before finalizing one.
Checking the support system for the LMS:
Support and maintenance are the most important things for every software. Having a complete support from skilled professionals can save a lot of headaches. There are some LMS platforms that offer complete support from the internal community and there is very less information available on the internet in general. This makes it very hard to find answers if you belong to a different industry. In many cases there are support packages that you can purchase, which includes some customization, upgrades, continuous support which could easily burn your allotment slot and leave you with some costly support bill when you want support for something that is more serious.
How much are you willing to invest?
Your budget is one of the most important things that need to be considered while choosing a perfect LMS platform for your learning organization. You may have a rough idea of how much you would like to spend on some new software, but it is very important to be realistic and know the exact features. Based on your budget, you may consider all the features that you expect your LMS to offer and then do some research to find if there is anything left that you would like to spend on.
"Thus, the final point is that you might want to consider an LMS that will integrate with other systems of your business, will have all the features to support your business and remain within your budget. Choosing an LMS while keeping in mind all these will make things easier for you in future."