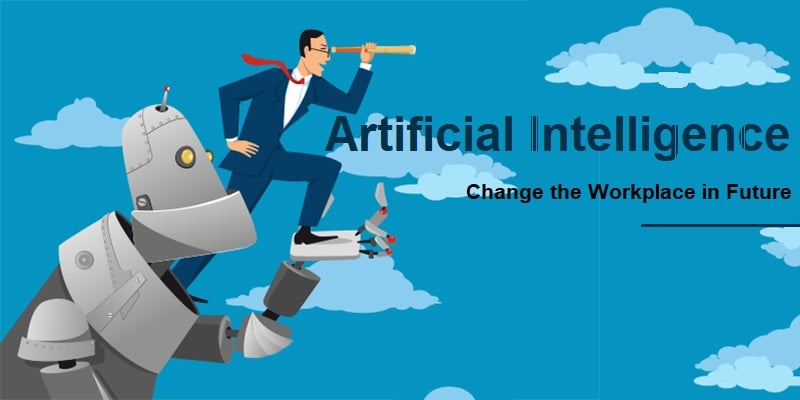 How Artificial Intelligence will Gradually Change the Workplace in Future
Many routine jobs that are performed by the workers in different organizations will increasingly be assumed by machines and this will leave the much complicated tasks to humans who will have the ability to see the big picture. Though robots may take up some of the jobs, they will also help various organizations build better workplaces.
Artificial intelligence and many other technologies promise advancements in healthcare, safety and productivity and also track the employees in the office and reflect how they interact with each other.
Artificial intelligence is considered as a positive addition to the workplace and it is likely to stay and bring in a positive influence for the present time and even in the long run. In this article, we will focus on the positive outcomes of AI in helping to solve various challenges in the workplace.
AI can help with recruitment:
Though many people often associate AI with loss of jobs, the technology can actually help them to automate various processes. Artificial intelligence has already changed the recruitment process, thereby making it more effective. Closing the skill gaps is where AI can help a lot and it can help organizations to pinpoint very specific skills and also past work experiences that can be transferable to the paper.
Machine Learning and Its Impact On Various Industry Verticals
AI can help to analyze the data in order to figure out whether a particular company should automate certain jobs and staffs or not. Doing this will help to analyze the labor resources available, salaries and even harder to gauge areas in the organization. AI might also help the employers to be more diverse in their process of recruitment and allow the best candidate who fits the criteria, but failed to reach the interview because of certain hurdles.
Increased productivity:
Every minute in your workplace is important and it matters. The trends have changed customer expectations and there is a need to drive data driven insights that are in real time. AI helps to improve the productivity by gathering the data and accomplishing various tasks easily and quickly. Companies can also keep an eye to see when the workers are dozing off and misbehaving. Not only this, AI can also check whether the workers are wearing the safety gear or if anyone has been harmed on the factory floor.
Rise of self-learning:
Though most companies are still not prepared to implement AI, there is still a bit excitement about the prospects of AI and machine learning. In long terms, it is by implementing AI that enterprises can now move towards self-learning that requires making sense of the output that is derived from machine learning and also advanced analytics. Since you get a continuous feed of reliable data, recommended actions and relevant insights from AI, employers and employees can use them to learn and improve their business processes and customer experiences.
Disabilities in employees:
The use of AI with human work can open up many doors to those people having disabilities so that they can remain in the organization or return to the workforce more easily. This would also help employers to assist people with disabilities more cost effectively. It is through technology that employees can remain more connected and also impart education through varied sources.
Flexibility in the workplace:
Today's generations look for more flexibility in the workplace and this has actually become a critical issue. It is with the use of AI that workers can gather various data from different locations and also add a new dimension to the roles of many employees. This means that they will be more focused on managing and implementing various initiatives with analytic tools and coordinate with each other effectively to facilitate better decision making.
Will the emergence of artificial intelligence have a great impact on individual workers in the future?
AI can be easily combined with other advanced technologies like robotics and 3D printing and this will lead to more efficient products and services. Machines can be trained to perform various cognitive tasks and this may help with many manual tasks.
As a whole, organizations will benefit from increased productivity at lower costs. But research has stated that machines will replace many workers and many well-paying jobs will be vulnerable to disruption. With the changes coming so fast, workers themselves have to learn new skills for new jobs and move on to new occupations with it.