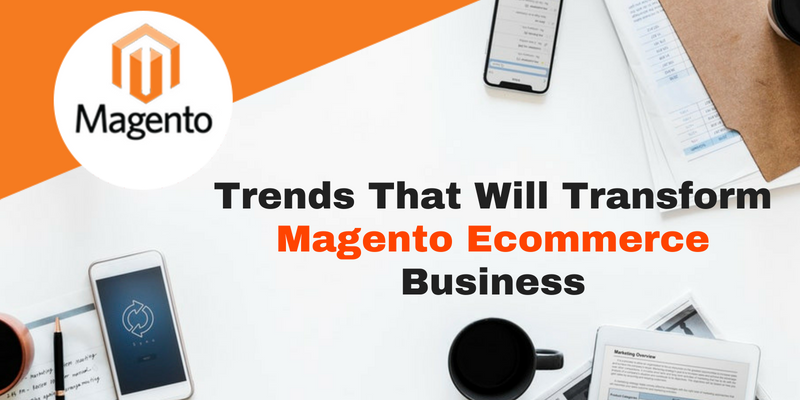 Three Key Trends That Will Transform Magento Ecommerce Business in 2018
Ecommerce business is growing at an exponential rate, but finding new ways to grow your business, keep the shoppers engaged and also maintain the brand's value and promise can really be challenging. It is by using the latest technologies and tactical measures that business owners can now deliver great customer experiences.
Magento CMS powers more than about 260,000 businesses worldwide and is a leading platform that offers the retailers, brands and manufacturers a great opportunity to showcase their products or services. Magento Commerce comes with a wide variety of features and functionalities that help to create a rich website.
Here in this blog, I will discuss with you the latest technologies and trends that have become the driving force of ecommerce today.
Progressive Web Applications and Mobile Momentum:
According to the reports given by Forrester, the average conversion rates on a mobile app is about 6%, desktop 4.2% and mobile web pages at 2.3 %. From this, it can be calculated that a web built and designed mobile app offers a convenient shopping experience, but the difficulty is that consumers mostly download and use apps built by brands with which they have regular transactions.
Shoppers have become tech savvy and also demand high speed, convenience and also some kind of entertainment on the go. Mobile apps need to offer a frictionless user experience and data based features will continue to improve this on mobile.
Are You Looking to Hire Dedicated Magento Developers?
Engaging technologies will help the merchants to personalize the shopping experience via mobile by acutely customizing product viewing and making the experience optimal for a fast purchase.
In the coming years, innovation will focus more on improving the web experience and PWAs will become the tool to watch. PWAs offer improved performance and usability and also promise to have a wide impact on mobile web conversion rates that helps to alleviate the needs for business owners to invest in developing mobile apps.
Personalization Tools:
This is the key to driving sales and enhancing the shopping experience for both the B2B and B2C companies. They need to run targeted promotions and offer personalized recommendations related to products or services for different consumer groups.
In order to ensure a seamless experience across varied channels, business owners or marketers should provide custom catalogs and pricing to specific customers so that they can see their negotiated price online.
Also Read: Importance of Building a Landing Page for Your Magento Store
To deliver a seamless and meaningful experience, it is also essential to prepare these campaigns using tools that can help to easily stage, schedule and preview the products, content, pricing and also promotional updates. Magento CMS is rich in features and can help marketers to bring new innovations and offer personalized consumer experience.
Machine learning and AI are also transforming the ability to data mine and offer statistics on how, when and where to engage the shoppers. This is helping to identify conversions about products that was not even know earlier.
Maximized Marketing and Data Driven Differences:
To meet the personalized expectations, marketers need some tools to access and analyze the data for better decision making and also refine their targeting. In most cases the data that is gathered is underutilized because it is spread across so many different tools and databases that only skilled and equipped businesses can manage it.
Magento development to a great extent helps to use these business intelligence tools and give the ability to integrate data from various sources.
Also Read: How to Provide an Excellent Customer Service Through Your Magento Store?
The right data driven strategy for creating customer centric marketing helps the merchants and publishers to understand who are the most valuable customers, where they are coming from, how marketing can impact their lifetime value and how the marketing investment is not wasted.
In order to create personal and meaningful engagement that helps to motivate the customers, it is important to tailor the experiences and offer them whatever they are looking for. So, the key to achieving all these objectives is to apply the right kind of data at the right time and create a complete picture of the target audiences, segmenting their categories and focusing on tailored messages for best results.
Ecommerce is not only a channel to grow sales, but it is also a great platform to engage your customers through content. And Magento CMS is a leading digital commerce platform that helps businesses to add marketing automation and personal experience.