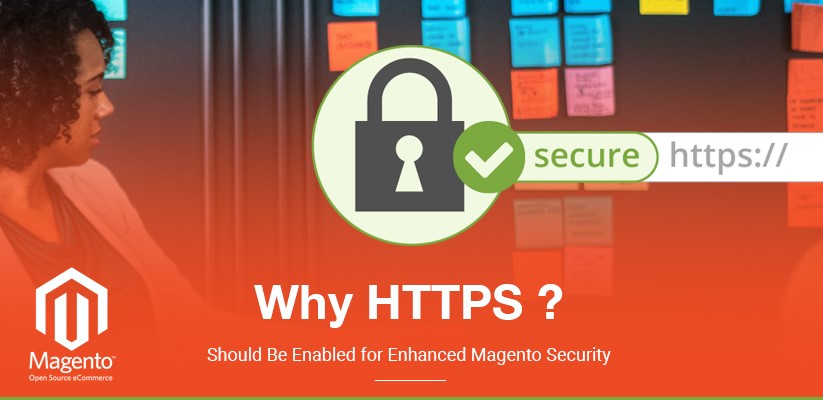 Why HTTPS Should Be Enabled for Enhanced Magento Security?
For online business owners and merchants, having a safe and secure online store is the topmost priority if they want to build trust with their customers. A website that is not secure can always be a spoiler, no matter how user friendly and beautiful your store is and how many best offers it has. Magento is the world's most popular eCommerce platform and it is not immune to security threats.
Having an SSL is a positive point, but today, the algorithm of Google has also changed from HTTP/HTTPS and the site that is using HTTPS will continue to get the SEO boost. The three most important things that prove the worth of your site are security, speed and privacy.
Here in this blog, I will share with you why it is very important to move your Magento website from HTTP to HTTPS.
Have you ever thought about HTTPS and why is it so important?
Whenever you come in contact with the WWW or the internet, you may have come across the acronym HTTP, which is one of the main links that keeps the internet running. HTTP stands for Hyper Text Transfer Protocol and it is a set of rules used for sharing information between collaborative, distributed and hypermedia information systems.
It acts as a link between the server and the client where a request is sent by the client and the server provides a response using the rules that are defined in the protocol.
Today, HTTP is replaced by HTTPS, which is Security Sockets Layer Protocol. The extra "S" stands for the secure part of HTTP. Now the communication between the client and the server is protected with layers of security so as to prevent the attacks that may come from both the ends.  This ensures authentication, protection and integrity.
Are You Looking to Hire Dedicated Magento Developers?
Why should you use HTTPS for your Magento website?
HTTPS is for security and is a must for commercial websites that transfer or store sensitive data like payments. So, it is compulsory for the commercial websites and Google has made it very clear that search engines too prefer sites with HTTPS.
1.Improved security:
When we speak about security, we mean that any information that is send via HTTPS is encrypted and that no one can steal the data from any point. Unprotected websites on the other hand can be easily exploited and personal data can be used for malicious purpose if the site suffers from any security holes.
---
2. The reliability factor:
Customers always want to make transaction through websites that they find verified and reliable. Even the most unsophisticated user can easily notice the difference by the secure green label in the address bar.
This indicates that your Magneto website certificate is valid and displays the company name and security status. This actually helps to create more positive customer experience.
Also Read: Importance of Building a Landing Page for Your Magento Store
---
3. HTTPS helps websites maintain integrity:
Browser updates often display the fact the HTTP sites are often less secure ones than the HTTPS and at the same time warn the users about the possible threats that they may face while using the site.
This often makes the customers leave the store or even scare them off on their first visit simply because they see a red flag on the site which appears dangerous to them.
---
4. Increased conversions:
Though users may not always have a complete technical understanding of secure connections, but one thing that they understand is they want a site from where they can shop freely without having any tension of their personal data stolen.
We often provide personal information that includes name, email, phone and fill a form before making any online purchase. Having an HTTPS on your Magento websites makes it a secure connection and this increases the visitor's confidence and this in turn helps to convert the visitors to customers.
Also Read: How to Provide an Excellent Customer Service Through Your Magento Store?
"Though there are multiple ways to make your Magento site secure, but moving to HTTPS is the first step and the best means to overcome the risks and get the benefits from higher search rankings. With cyber frauds getting bigger day by day, business data security is imperative for online stores and implementing HTTPS surely helps."