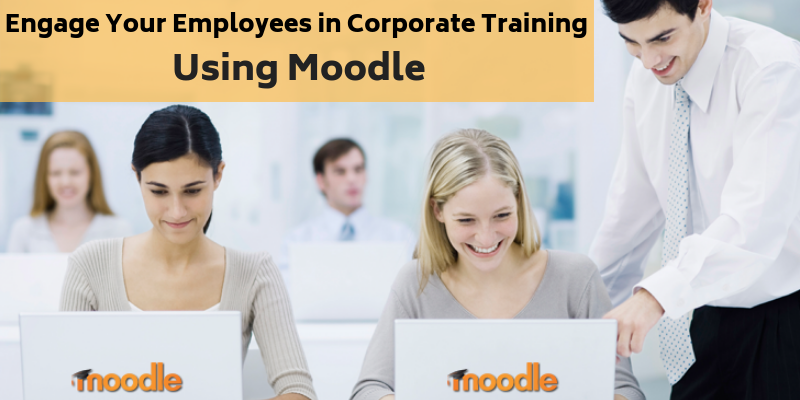 Learning Just Don't Happen. Moodle Helps to Engage Your Employees in Corporate Training
Keeping your employees updated with the latest information on tools and technologies is essential to align with business goals. With flexible learning platforms like Moodle available, it is easy to extend online learning, optimize learning outcomes and also increase employee engagement.
The world of education has transformed a lot in the past few years and it has entered the corporate sector where training modules are created to keep the employees updated.
Are you a part of the corporate training team in your company?
Are you finding it difficult to educate and also engage the members with the existing corporate training program?
If your answer is YES, then I will discuss few essential tips that will help you to carve a better training session. A flexible learning platform like Moodle LMS will help you to create and preserve the institutional knowledge, retain your employees, create a more engaging learning environment and drive positive business results.
Focus on e-learning
Research has stated that modern enterprises are about 2.5 times more likely to adopt any latest technology than the older generations. Though e-learning is not a latest technology, but using the platform for corporate training is a great means to engage your employees.
You can easily observe the difference that digital content is often more appealing than any other conventional medium of learning.
Make it relatable:
Just imagine how you would feel if you have to attend a training session that is not directly applicable to you? It may be really boring and you may not be willing to attend it the next time.
Academic and Corporate LMS: Understanding The Differences
If your training material is too generic, then chances are very high that they won't strike a chord with any learners. For this, you have to make the course content relatable so that it is appealing to all. For this, you have to follow certain strategies like using some real life stories, add some informative video, involve the CEO at times and etc.
Relatable learning materials are always inclusive and also speak directly to the learner.
Create training sessions that are brief:
Are your training sessions too long, leaving your learners sleepy and drowsy? How can you make them interesting to keep your audience hooked from the beginning till the end?
Your employees may be very keen to learn new tools or techniques, but their attention span may be very short and less than 90 seconds.
This means that if you are engaging them with something new, then you should hook them with something interesting from the very beginning. And here is where the concept of micro-learning comes into play.
Moodle LMS Reporting Capabilities and How They Help Organizations
Moodle LMS helps to create short and brief course modules with a single and specific objective. Having only short lessons will help the millennials to retain information better.
With long sessions, your employees may end up hating the program, but any bite sized lessons are perfect for the fast generation as they can swiftly move from one lesson to another without feeling overstressed.
Make the training more agile and flexible:
Following a traditional pattern is difficult for many learners. They look for flexibility while learning. Needless to say that technology plays a significant role in this.
Your corporate training will only be effective if it complements their lifestyles and helps to get acquainted with it with each passing day.
Making your course mobile friendly will also help your employees to access the course according to their convenience who are on frequent travel.
"To conclude, I can only say that you should never force any conversation or training session on your employees. Anything that is interesting and is delivered fresh and in an exciting format will of course stand for itself without much changes."