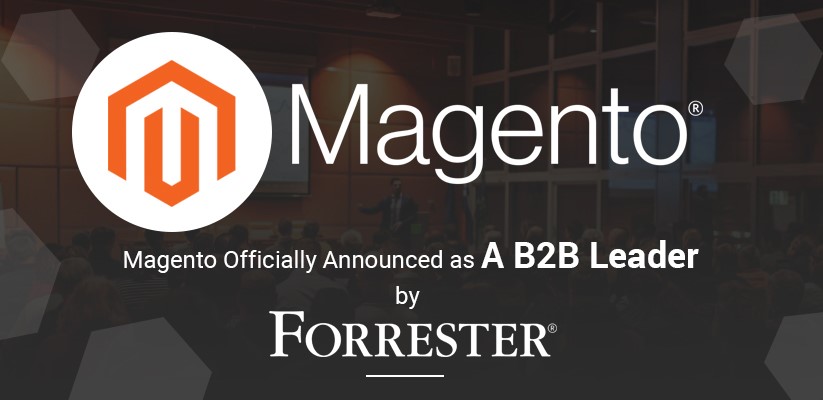 Magento Officially Announced as A B2B Leader by Forrester. Here Are the Reasons
B2B organizations are increasingly using various digital commerce solutions in order to address their unique business needs and objectives. They prioritize the solutions that support multiple business models, are comprehensive, integrate seamlessly with their existing business systems and also allow for agile customization.
In March 2018, Forrester consulting conducted an online survey in the UK, Germany, US, China, Australia to evaluate the state of B2B ecommerce and found that
B2B organizations are increasingly turning to ecommerce and putting great effects to drive their larger strategic goals.
The B2B leaders are looking for a reliable, scalable and complete technology solutions, but often find it difficult to maximize the value of their investments
The companies lean on eCommerce efforts so that they can drive customer satisfaction, improve competitive positioning and generate higher revenue growth.
Forrester announces Magento to be the B2B leader
With the B2B vertical growing at a tremendous pace, it only shows the sign of growth. Thankfully, IDS Logic is a leading Magento development service provider that can cater to the vast demands of B2B sector. Recently, Forrester, an influential research firm has declared Magento to be the leader in B2B ecommerce because of its rich features and functionalities. We are proud to be a part of the Magento community.
B2B leaders look for flexibility in their ecommerce platform and this is what Magento offers:
The preference for digital channels are growing and B2B organizations know that they need to offer a complete spectrum of service options that meet the varied needs and the growing expectations of their customers, in order to retain and grow the customer sales. They need to create experiences that match the type of buyer perfectly, their individual preferences and whether they are fresh customers or existing clients reordering the products.
All these makes flexibility a crucial component of the B2B sales strategy and this is what Magento ecommerce development offers. Magento is flexible and comprehensive enough to satisfy the full spectrum of customer engagement and purchasing preferences.  It is reliable, scalable and a complete technology that allows to achieve specific business goals.
Are you striving hard to create a fully integrated solution? Magento is of great help in this struggle:
With a very complex and competitive environment, featuring a legacy system and the latest ecommerce technology is a challenging task. Most businesses find it difficult to integrate a solution that meets their specific needs and integrating with their legacy system becomes a pressing challenge with finding the best ecommerce service provider to help with the integration and implementation of the project closely follow.
All these challenges are magnified with higher investments and flexibility to support different customer types and channels. Magento offers specialized B2B features that are separate modules and has APIs that can be used to add in-house functionalities that are not available in the Magento marketplace. Recently the Magento Digital Commerce Cloud for B2B has also been released to support multiple customers from various geo locations.
The enhanced ability to offer more to the customers has often helped to increase customer satisfaction and retention:
Since B2B firms are often large and offer a more customizable capability set, the firms with the highest maturity, offer better personalized experiences to their customers and this increases operation and sales productivity.  Magento ecommerce platform offers various such features and extensions and allows marketing automation, email marketing, shipping and fulfillment features, secured payment and data security options, responsive capability, great customer support with the Facebook live chat and advanced FAQs and many more.
Magento is worth considering when you are building your B2B ecommerce website. It has all the rich features and extensions that are needed to offer your customers a website that allows them to make a quick purchase of products online without dealing with any sales people.