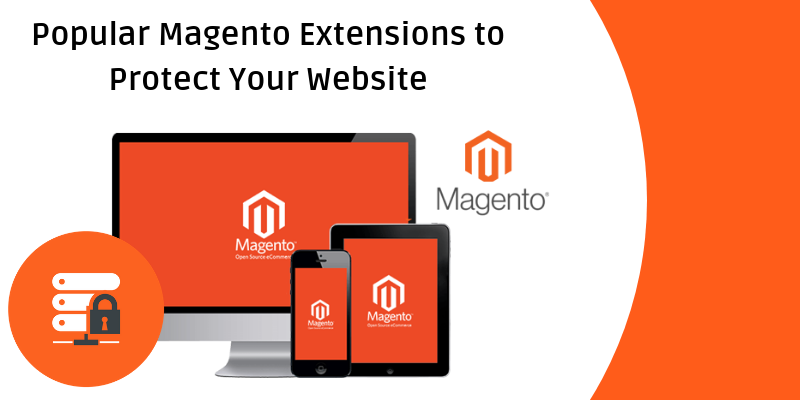 Popular Magento Extensions to Protect Your Ecommerce Website
Magento is a very popular ecommerce development platform and most e-store owners prefer to use it as it is safe and offers varied features and functionalities.  Security of the platform plays an integral role as it is very important to keep sensitive and confidential information safe from others.
Since this is a high priority, Magento development community continuously releases various patches to enhance the security measures and keep the site safe from any unauthorized access and attacks.
How do Magento security extensions work?
The Magento security extensions are patches that are released and are entirely separate from the main ecommerce platform that most e-store owners use to build.
With more than 11% of the ecommerce websites running on Magento, it also makes it the most targeted platform for the attackers.
Magento extension is a choice for the business owners looking to safeguard their websites from cyber-crimes.
---
Top Magento Extensions for Your Website:
Login Security: You may get emails from your service providers, while using different E-accounts or when you use it from a new device or location. They also notify you if in case someone else uses your emails and attempts or makes a request to change the password.

This method is also applied by the hackers for your Magento website. By choosing the Login security extension, you can solve this issue to a great extent.
The extension checks the password for every login and sends an information whenever anyone tries to access your site using your email id from other device. This instant notification helps to identify any attacks at the earliest and take essential steps to resolve it.
---
Enhanced Admin Security: This extension is a two-step authentication process that is something useful for the Magento store owners who share the store with other users.
It offers an additional layer of protection. Instead of relying on the usernames and passwords, the extension extends and needs an additional security code from people trying to log into the site. The security code is valid for only 30 seconds and is a one-time use code.
Also Read: Points to Ponder Before Choosing a Magento2 Payment Gateway Extension
---
MageFence: Security breach of your website may lead to getting it blacklisted by the search engines and this may be a huge loss for business owners.
To protect the sites from all kinds of security threats, you can use MageFence, which is a robust security module that blocks all the suspicious activities on your site automatically and keeps it safe from the cyber attackers.
The Magento extension also scans the site internally from time to time and sends notifications in case it finds any potentially unwanted changes.
---
ET IP Security: This extension helps the Magento site owners to track their visitors by using their IP address and even ban them by banning the address that they are using to mask their identity.
Are You Ready to Migrate Your Store to Magento 2?
A "restrict" rule is applied to that IP address, which redirects the user in case they try to access the site. Website owners are also notified about any attempts by email.
---
MageFirewall Security: This firewall extension helps to protect the entire website from any unauthorized access. It acts like a normal firewall and enfolds the site in protective layers. Any hackers or unauthorized attempts are repulsed by the extension and then it is blacklisted for any interaction with the site in the coming future.
Also Read: Magento 2 Per Product Shipping Extension to Manage Shipping Costs Effectively
It also has a built-in scanner that offers the site owners with recommendations on how to proceed and alerts them in case anyone is trying to break the security.
---
SafePay Network: With the growing online payment frauds, it is very important to secure the transactions when customers purchase any products or services.
To protect the transactions and stop any financial frauds, this extension can be used as it keeps a close eye on all the transactions and sends the customer instant notification when they use any debit/ credit cards for payments.
It is only after the confirmation that the transaction is completed. This helps to prevent usage of stolen debit or credit cards for shopping.
"Security plays a vital role in all Magento ecommerce sites and it is by using the right Magento extension that you can make your site secured from any unauthorized access and cyber-attacks."
---