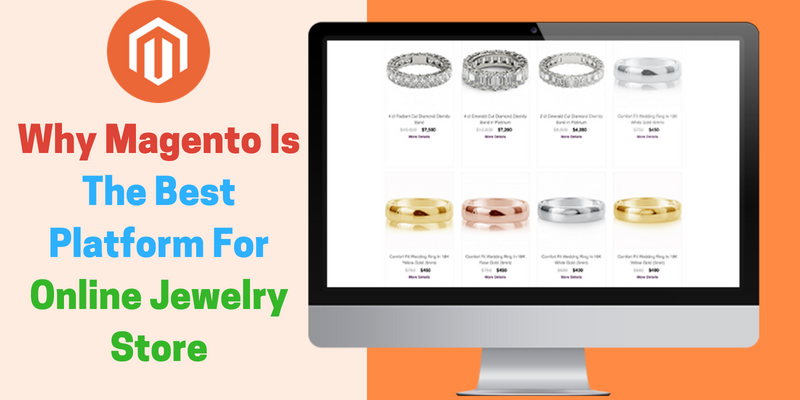 Why Magento Is the Best Platform for an Online Jewelry Store? Take A Look at The Mirror
Digital commerce is becoming a prime means for driving the core B2B business that ranges from boosting the revenues to improving the overall user experience and loyalty.
A research conducted by Forrester Consulting has stated that only 26% B2B companies have implemented the best practices that relates to greater success in attaining business goals. Though the eCommerce business is booming, there are various challenges that merchants have to face while selling expensive products like jewelry.
The main reason behind this is that they have to put great efforts to win the trust of the buyers and also prove their reliability in order to convince the customers to pick such high valued items without actually seeing and evaluating them before their eyes.
Merchants are taking great initiatives to create e-stores that offer an impressive look and offer features that help them to build trust. Now, when it comes to choosing the right choice of platform, Magento CMS is emerging as an apt choice among online traders.
Today, an increasing number of online business owners selling costly jewelry are opting for this platform. So let's find out in this piece of writing how Magento CMS can actually help merchants sell costlier items.
A Brilliant Collection of Themes That Offers a Wide Range of Choice
The first step for a successful jewelry store is to determine the right and attractive theme that has the capability to fetch audiences and keep them engaged for a long time in order to drive conversions. Picking the right theme would help the store to deliver the desired level of aesthetic appeal.

There are various Magento Jewelry themes that offer impressive designs and can be easily tailored to offer a clean and uncluttered interface to the store that helps to display the products clearly and navigate the site easily.
Magento Offers More Secure and Reliable Transactions Than Any Other CMS
Jewelry items are often very costly and shopping online means heavy transactions. Both the buyers and sellers are concerned about the security of their transactions. And it is here that Magento has always turned out to be a reliable platform that addresses most of the concerns of the shoppers.
It can be easily integrated with reliable and secure payment gateways that ensure that your money is transferred easily without any risks and hassles. Magento development also comes with an option of deploying the Magento firewall module that helps to boost the security of the website from any cyber-attacks.
Jewelry Store Using Magento 2 can Use Analytics for Targeted Marketing
Online Jewelry store owners who choose Magento 2 to develop eCommerce website can often enjoy great benefits of using specialized analytics tools that empower the retailers with customer segmentation features.
It is on the basis of the user insights that include their browsing behavior, choice of products, location and etc., that the store can target the customers with personalized content and marketing strategies like shopping recommendations and targeted offers.
Easy Usage of Visual Enhancements for Product Views:
Whenever it is about selling precious jewelry online, the store should use creative means to display their products so that the customers can have a clear view of what they are purchasing.
This is possible with Magento as it comes with rich features and offers a wide range of creative website design elements for creating effects like a 360-degree product image and also zoom in and zoom out facilities.
Magento supports Online Marketing and is an SEO Friendly Platform:
Another great reason of choosing Magento CMS for your jewelry store is that it is highly SEO friendly and supports different forms of online marketing. This means that it would be very easy to optimize the website for the search engines and implement SEO and social media modules.
The ultimate result would be to increase higher traffic and sales conversion. A strong social media presence also offers business a great branding advantage, which is very important for costly products like jewelry.
"It is by considering the unparalleled benefits of Magento CMS platform that jewelry sellers are developing their upcoming stores on Magento and trying to capture the wider market base."