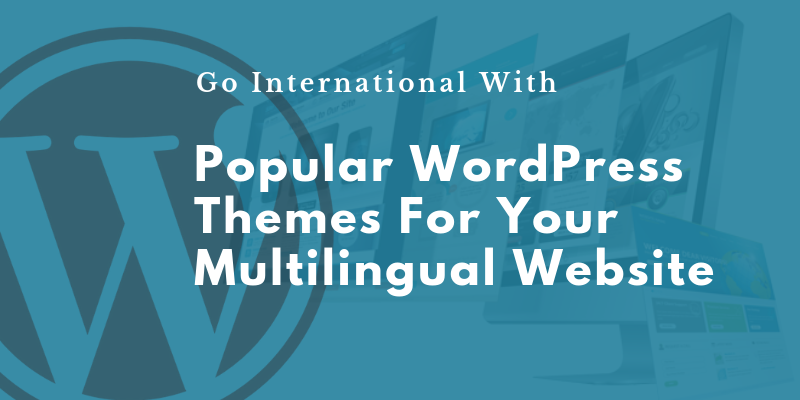 Go International with Popular WordPress Themes for Your Multilingual Website
A lot of effort goes into producing top quality content, but it doesn't make much sense if the content cannot reach the widest possible audience.
Now the thought may come to our mind that English is one of the world's most widely spoken languages on Earth, so why is there any need to go multilingual?
Statistics relating to the internet usage have found that only 25% of the internet users speak English and more than half speak their native language. And this creates the huge opportunity for savvy, multilingual webmasters.
WordPress is the most popular CMS used by organizations and to tap into the truly international online market, there is a need to publish multilingual content in various languages so that you can expect to see a sudden increase in visits, user engagement and also conversions.
To name a few preferred languages: French, Spanish, Italian, Chinese, Arabic and etc. can easily be a part of your language section based on multilingual WP themes.
So what is the best way to go multilingual? Choose from the given themes:
Langwitch:  This is a universal multi-purpose WordPress that offers a clean and completely responsive design. It is highly flexible and can be used to create business, corporate, personal or e-commerce websites. The theme comes with a drag and drop page builder that helps you to create unlimited layouts.
The page builder, administration, website elements and the other front end parts are translated into more than 26 languages so that you can have your site in either one language or even create a multilingual site.
---
Atlanta:  This is another unique WordPress multilingual theme because it comes with a built in support for the RTL and is of course a great choice for a multi-purpose and multilingual theme. It includes language files, Polylang, WPML compatibility, multi-purpose WordPress themes.
The features also include a user friendly drag and drop builder, responsive and flexible design and also a great customer support.
---
Gonzo: This is built with semantic CSS3/HTML5 and is also responsive. It helps to keep the magazine feel down to the mobile screen sizes, and almost every typographic element has been tweaked for various screen sizes to ensure that it looks great on any handheld device.
---
Seed: It acts as the foundation for all Organic Themes and updates. It comes with a clean design and the code is meticulously documented and organized, thereby, making it a perfect foundation for any WordPress multilingual project. It includes a fully responsive framework, several templates and retina optimized design and etc.
Boost Your WordPress Website Performance
It is WPML compatible as it has passed their test and is approved for complete compatibility.
---
Adventure: Whether you are a travel enthusiast or a weekend explorer, Adventure WordPress multilingual theme is an excellent solution for funding and sharing the journey. It helps to showcase some of the most important articles and also offers a biography section for the social media links and to display information about your company. Besides this, it is also WPML compatible and approved.
---
Avada:  This is the ultimate multipurpose theme that can be used for many WordPress projects. It is responsive, super flexible and clean and is packed with powerful options. It is translation ready that includes language files, Polylang and WPML compatible and also has built in RTL and offers varied language that are translated with developers adding more with time.
---
The7:  It is highly scalable, performance oriented, responsive and SEO optimized, retina ready, multipurpose WordPress theme that is fit for a site whether big or small. For personal sites, corporate portals to studios – this WordPress theme offers a great foundation for your upcoming project and it is also 100% translation ready and WPML compatible.