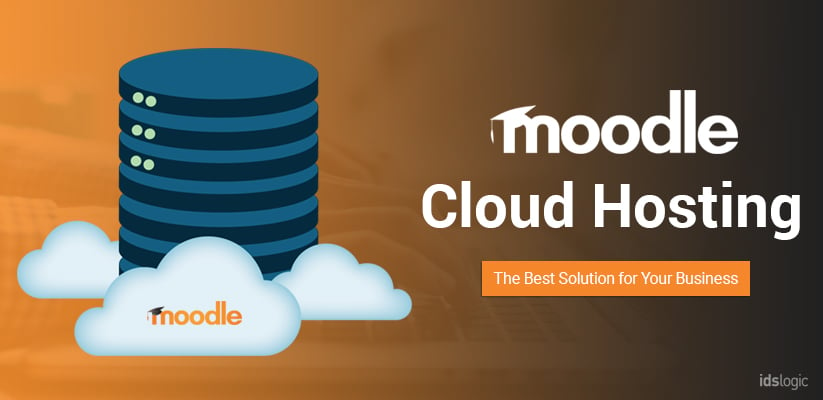 What Makes Moodle Cloud Hosting the Best Solution for Your Business?
With exponential growth in web based technologies and educational software, it is nothing new that so many academic institutes are turning to e-learning solutions to train their students even on the go. It is forecasted that the e-learning industry will reach a net worth of about $325 billion by the year 2025.
Moodle is a popular LMS that is preferred by educational organizations for pedagogy and online course management.
It is specifically designed to provide the learners, educators, administrators with a secure, robust and well integrated system to create personalized learning environments.
As an open source platform, Moodle LMS development can easily integrate and also complement your workplace and existing education software solution.
One prime decision that the organizations have to take while creating an LMS website is whether to host it on private servers or avail cloud based hosting, which is an advanced form incorporating great support and service levels. Moodle cloud hosting and support solution won't require you to install any specific software or hardware to access and use it.
Cost effective solution: 
A cloud based Moodle will of course be more cost effective than the one that is hosted on private servers. With cloud, there is no need to make significant capital investment to purchase any software or hardware. The costing basically depends on your usage metrics and you only pay for the actual usage of your cloud LMS.
It is more cost effective as you will not have to pay for the maintenance, support or upkeep and so you will never be charged for any upgraded costs.
---
Quick implementation:
Moodle cloud hosting and support does not have a complex and time taking installation process. There is no need of going through lengthy meetings with project managers before installing and implementing the system, making it a faster and a quicker process. Your Moodle hosting vendor will upload all your courses where the users can have immediate access to it.
---
Wider reach: 
Cloud based hosting offers a wider reach and it means that you are not limited to companies that are in close proximity to you.  If you are keen to implement Moodle cloud based hosting, you are always free to work with Moodle hosting companies all over the world as you will have your data backed up in many locations.
Secondly, in case you are an international company, it will be easy for you to manage your employees access to data as they only need internet access.
---
Secure and scalable:
Cloud hosting has to be highly secure to give confidence to the customers. The processes and the codes are secure and the services also adhere to industry standards and conduct regular independent tests. The data is also encrypted during transmission to ensure that it is always safe.
Moodle users should always take advantage of the infrastructure to scale easily to meet the growing number of users for their courses. All the factors ensure that the system is a safe platform and that you will be able to scale easily to match your growth.
"If you are interested in learning more about Moodle hosting, then check our Moodle section on our website and get more information why LMS cloud hosting is crucial for your organization's success."