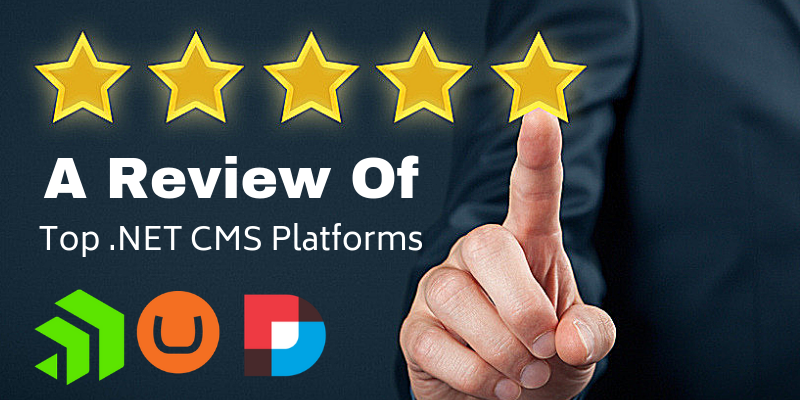 A Review of the Best .NET CMS Platform for Your Business
For busy parents or millennials not so interested in cooking, various food ordering apps or ready to heat packs have offered salvation from starvation.  Instead of spending hours in the kitchen, a click on the phone can obviously help. But this is not so for the marketers maintaining a digital marketing strategy for a business website.
An effective website is the one that offers relevant and updated content to the visitors and is also flexible enough to make changes at the drop of a hat. It is here where a CMS or Content Management system plays its role.
With the increased demand of online consumers for better services, enterprises all over the globe are also looking for the best platform that they can use to promote their brands and products.  In order to survive, every business has to deliver a seamless digital experience across varied channels and for this, choosing the best .NET CMS offering features that align with the business objectives is imperative.
Although there are many CMSes in the market, some of the best ones that offer high performance are built on Microsoft .NET. So, whether you choose to go for licensed or want to avail the open source option, Microsoft .NET CMSes offer many choices before you.
Umbraco
This is one of the most popular cloud based open source CMS that is built on the Microsoft ASP.NET framework. The platform has gained much popularity among website owners because of its flexibility to run anything ranging from small campaigns or brochure sites to complex applications and even large media sites in the world.
With more than 100,000 websites using this platform, it offers advanced features needed to create a perfect website that is simple to manage. Its cloud based system helps the users to save themselves from the troubles of installation and bug fixing.
---
Sitefinity
With users like Gatorade and Dannon under its belt, Sitefinity has become one of the most established and popular CMS around. Some of its most notable qualities include its beautiful designs, user friendly experience that includes the drag and drop widget, personalization, SEO, built in ecommerce capability, A/B testing functionality and the ability to accommodate large enterprises managing multiple brands from different locations.
Not only this, Sitefinity also offers connectors for Marketo, SharePoint, Salesforce and Microsoft Dynamics CRM and other digital marketing tools.
---
DotNetNuke
This is another most prominent CMS built on the .NET platform. It is open source and helps to get a free version with various inbuilt modules and themes and it is known for its immense flexibility. There are many versions of DNN and the premium version offers a full set of features.
With 1+ million community members and thousands of developers to support, you will also find hundreds of free, commercial third party extensions in the DNN store.
The security process is very high and DNN CMS has passed stringent vulnerability tests from many financial institutions and government agencies.
---
Your takeaway
So, if you are interested in choosing any one .NET CMS and build a website, then our experts at IDS Logic can help you set your business by developing solutions that suits your business demands. Based on your budget and needs, you can opt for either open source or commercially licensed CMS.