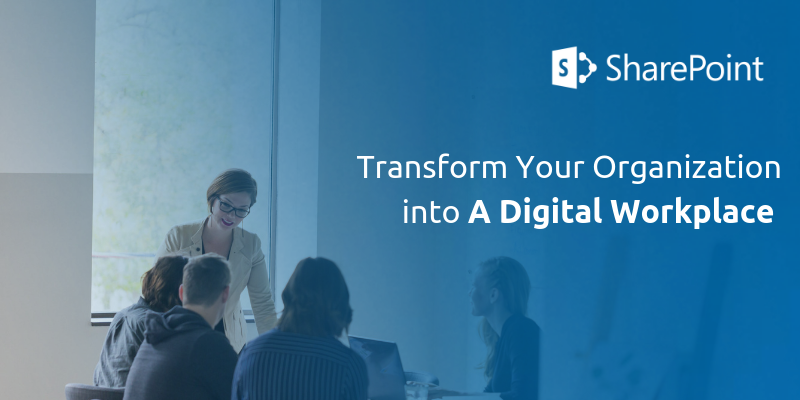 How SharePoint Development Helps Transform Your Organization into A Digital Workplace?
With increased usage of SaaS based applications and various online services offered through websites and mobile application, there is a rise to a new digital workspace where employees can easily have the tools that they demand from anywhere.
Unlike traditional offices where staffs do their job from 9 to 5 under the administration of managers, modern workplace has a completely different approach. Today business organizations are spread all over the globe and in various locations. Instead of working from one single office, employees too are working from different locations and also collaborating with the team members fast.
Key Areas to Focus When Developing a Successful SharePoint Project
Wherever your workforce is located, it doesn't matter now as technology has brought seamless connectivity among all of them.
Geo locations and physical boundaries are no more any constraints today and employees can easily communicate, collaborate and work in real time with each other. Choosing the best productivity and collaboration tool can make all the difference and it also increases the chances of being successful in the long run.
SharePoint development helps business organizations to centralize the access of their tools and brings an opportunity to not only create shortcuts to varied services, but also offers additional capabilities.
Here is how SharePoint can Support Your Digital Work-space Needs:
SharePoint is one of the most popular collaborative tools that enterprises can use to interact and collaborate easily with their digital assets.
SharePoint development helps to create a centralized point of access to the workspace:
The greatest need for all enterprises is to offer centralized access so as to line of business applications and other services from a single platform.
Users can now work with more applications than they used before and SharePoint is able to deliver application shortcuts, thereby allowing the users to access them from anywhere. This applies mainly to the web based applications that can include Microsoft's own Office 365 services.
---
The new Office 365 model makes SharePoint more appealing:
Applications are a new thing in Office 365 and with SharePoint, you can now easily design and implement PowerApps for every deployment and development.
These applications can be used in the browser through SharePoint and can also be accessed by using the native mobile PowerApps. Business owners can use these for everything from capturing and collecting the images while checking the expenses of employees.
---
SharePoint offers seamless integration:
The smooth and continuous migration to Office 365 has made SharePoint more attractive to the potential users. it can easily integrate with OneDrive for business, Power BI, PowerApps, Office Groups to deliver single enterprise content management solution from where the users can easily access the content in other 365 services.
The Potential of PowerApps with SharePoint
Since all the varied components of Office 365 deliver, automation and collaboration, business intelligence and etc., accessing them via SharePoint makes it an ideal tool that supports digital workspace initiative.
---
User engagement through brand identity:
Business organizations have recognized that the applications that employees use are many and SharePoint development is helping categorize the apps and centralize their access to different business tools that their users need.
This has an added benefit that SharePoint can be used to match the corporate identity of any company and deliver additional content needed for various apps. Other sales, marketing apps, IT portals can easily be integrated with SharePoint development and this enables businesses to jump start the digital workspace strategy with little effort.
A smooth transition to the digital workplace means leveraging scalability, communication, collaboration while supporting your customers and employees. SharePoint helps organization's workplace transform into a more effective, communicative and productive environment.