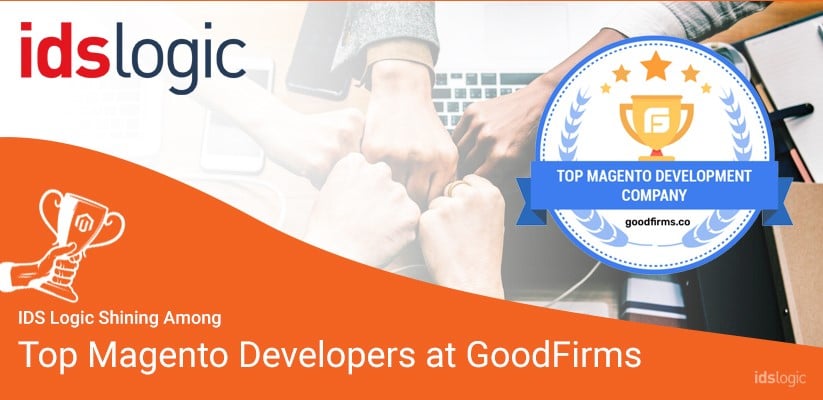 IDS Logic Shines Among Top Magento Developers & Outsourcing Companies
IDS Logic's remarkable IT services regarding e-commerce website development have made it to the list of top Magento Developers at GoodFirms, a research and review platform & we're also recognized as a top Outsourcing Company on DesignRush.
About the Company
IDS Logic is one of the best IT outsourcing firms with a focus on offering web development, mobile apps and internet marketing services to its global clients. IDS Logic is headquartered in Noida, India, with a sales and project management office in Leeds, England. They have a dedicated team of professionals who are a unique compound of strategy, creativity, and technology.
Established in April 2007, IDS Logic has helped over 500 businesses to succeed online. Along with this, they have 20+ imperative outsourcing partners in USA, UK, Dubai, and Australia. They are a global IT and internet consultancy that invariably aims to achieve high levels of productivity.
---
About GoodFirms' Research Methodology
Headquartered in Washington D.C., GoodFirms is a research and reviews firm that evaluates and analyses IT companies for their authentic services on three crucial parameters – Quality, Ability, and Reliability.
GoodFirms is at vanguard to help service consumers from around the world by providing a categorized directory, client reviews, and company content & resources to choose the best firm that meets their specific requirements.
---
IDS Logic's Ranking Category at GoodFirms
As per research, IDS Logic will soon gain a position among the top Magento developers at GoodFirms for delivering outstanding Magento solutions for e-commerce websites.
IDS Logic is one of the leading e-commerce web development firms that offers praiseworthy solutions to businesses of varied industry verticals. Having great expertise and in-depth knowledge of this fast-growing industry, their team of developers offers services on several technology platforms that include PHP, MYSQL, XML/Webservice, AJAX/Jquery, Apache webserver, and others.
They practice in producing unique online stores that are planted with unique features that establish an excellent online business. By selecting Magento development services from IDS Logic, an online store platform can enjoy a stable, secure and optimized site having all the functionalities needed to remain ahead of competitors.
Their key Magento Development services include e-commerce solutions, customized module and extension development, mobile and responsive website, hosting and support, Magento 2.0 migration and upgrade, and PSD to Magento.
---
Here's a Review of an Individual for IDS Logic at GoodFirms:
Chris Manko who is a Solutions and Infrastructure Architect at Lifecycle Marketing has a few words of working experiences with IDS Logic at GoodFirms:
"Dedicated team on and off the shore of solution providers and developers, great attention to detail plus their ability to comprehend difficult tasks and feedback during requires stages with better solutions. Great documentation ability and friendly dedicated staff who work at a great pace in difficult situations."
---
Road Ahead for IDS Logic at GoodFirms
GoodFirms has also been scrutinizing IDS Logic for web development and software development categories.
1-Web Development in India: 
IDS Logic helps in marketing the client's services and spread the business message of companies tactfully through their web development services. They have been delivering varied solutions to international clients for more than a decade and have supported them to savor success in the long run.
Whether a small business or an enterprise, their software development team can create codes to meet requirements and offer solutions that are feature rich and well performing.
They follow substantial steps like requirement analysis, competitive market analysis, approving concept ideation, project development initiation, testing, and delivery-support to create a perfect website for their clients.
IDS Logic's adherence to their expertise in web development services, GoodFirms believes that it will surely enter in the list of web developers in India.
2-Software development
IDS Logic offers full lifecycle software development as well as engineering solutions to all their clients that range from start-ups to Fortune 100 companies. They have the right understanding and skill to develop the software that businesses need. Their custom software development services aid in building and integrating complicated business applications in a convenient manner.
They have technical expertise in Windows DNA, .NET development, PHP development, AJAX development, Win32 API, SugarCRM Development, Joomla Development and many more to help make the best softwares.
With the way, IDS Logic is thriving in software development, makes researchers at GoodFirms believe that it will shortly enter in the list of top software development companies.
---
About GoodFirms:
Washington, D.C. based GoodFirms is a maverick B2B research and reviews firm that aligns its efforts in finding the top mobile app development and AR-VR companies delivering unparalleled services to its clients. GoodFirms' extensive research process ranks the companies, boosts their online reputation and helps service seekers pick the right technology partner that meets their business needs.