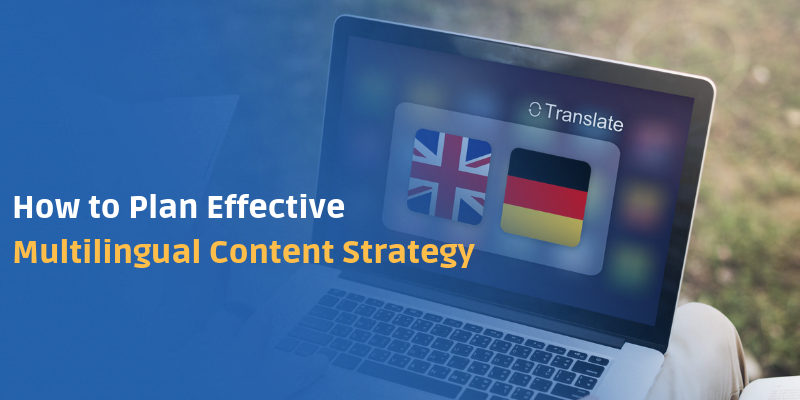 Multilingual Content Strategy: How to Plan It Effectively for Best Business Results
In the digital landscape, most people are talking about the language that they should choose to attract their audience. Big organizations are no more limiting themselves to specific locations only, they are going global and looking for customers in other regions and countries.
You might think that most people speak in English and those who don't, at least understand the language. But to your surprise, let me tell you that this is a wrong notion. People still prefer to use their local language and English is still a big "NO" in many places.
If you are really serious about your brand and want to make it visible before your international audiences, then a multilingual content strategy is a minimum requirement. With a content strategy, we don't simply mean to write down some blogs or articles and get them posted.
We mean a proper strategy that speaks to the audiences in their own languages, proves your credibility and addresses their individual needs.
You are comfortable in your mother tongue and so are your customers. They will respond best to marketing in their first language.
Brands that often try to get engaged with their potential customers in their second language often lose the chance of interacting in an effective manner. In doing this, they often make life slightly inconvenient for the customers and as a marketer this is the last thing that you would actually want.
Preparing a multilingual strategy helps to penetrate untouched business market segments and convince people effectively in the language they are comfortable.
Here are a few important multilingual content considerations while preparing your marketing strategy:
Why is it important to identify languages for translation?
The very first step in developing a multilingual content is to determine the languages that you want to support. Identifying them will help you to target specific markets, understand what your audiences are looking for, analyze their behavior and target international markets that have the maximum potential.
Companies that evaluate all these while preparing their multilingual content strategy are able to create a successful and effective marketing plan that works best.
---
Are you writing a compelling core message that strikes at the first note?
Every company has a brand image that they are willing to maintain and this message should be relevant to the products or services that you are offering.  It should describe your company and your work to the audience and this should be consistent in all the languages that you are planning to promote your website in.
So, translate and localize this message together with a choice of color and words based on the country or location chosen.
Simply creating content is not enough for your business. Distribution plays a vital role and the strategy should be optimized for each audience segment:
Think like your online visitors and try to understand their needs and business. You will find that they greatly vary from country to country. While creating your multilingual content marketing strategy, it is crucial to identify the types of content that drive the highest traffic, engagements or conversion in each region. Adjusting things like the tone, images, design, colors etc. is important to optimize each audience segment.
Having a great social media strategy is important, so that you can reuse and share the content on various social media channels to attract new customers. The content should always include localized information, so that the global users are excited to share them on social media.
Search engines are important for your rankings and content optimization is an essential step for every content strategist.
SEO has changed the way web content is written and promoted. Optimizing your local content for the local search engine will help to gain a higher ranking with these search engines. This will increase visibility. Following some best SEO practices for your local content will help in attracting your local visitors and also improve business sales.
"Though it is not an easy task to coordinate a successful multilingual content marketing strategy, but following important steps will surely make it achievable. So, take your time and measure your performance so that you get closer to your goals."