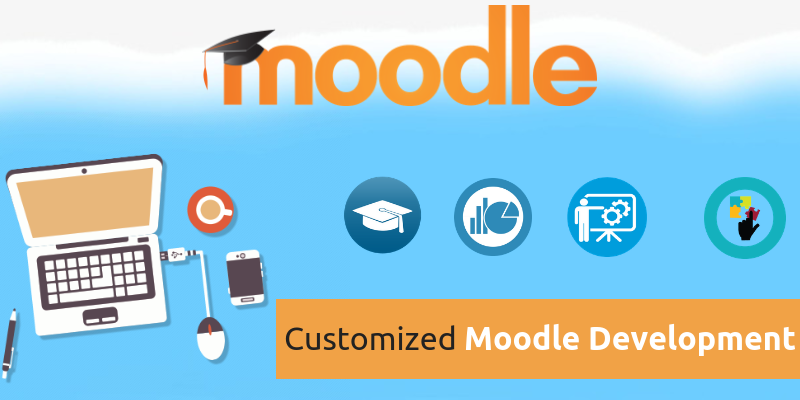 Customized Moodle Development Helps to Create an Engaging Learning Environment
The Internet has become a great source of knowledge in the form of images, words, and videos and the information is available in a semi-structured form. Over the years, the internet has also influenced the education sector and today most institutes have adopted web technologies to offer online courses, and market their academic services and products.
There is no doubt that if learning courses are presented in a structured manner, then it has the power to educate people even on the go.
Customized Moodle development learning solutions help the learners to take their own decisions regarding the way they want to learn, how it should be planned and the goals.
There are systems that incorporate self-assessment and this allows the learners to decide what they actually want to attain by interacting with the system.
---
Why Should You Choose a Custom Moodle Development for Your Learning Course?
Online learning modules are often different from traditional ones, as they are specifically prepared for learners who want to continue their studies according to their convenience.
Customized learning works well in flexible environments and learners can always set their own pace, engage with programs and complete it according to their schedules. Moodle custom development solutions can make this possible if it is specially designed to create bite-sized learning modules that can be easily accessed from different devices.
Even Moodle plugin development helps to add extra features that allow the learners to set their own path, receive any recommendations and engage with the content that they are really interested in.  Creating customized pathways allows organizations to deliver different programs that learners can use to complete to earn the certifications and also get access to better job opportunities.
Such solutions also help to improve the success rate of the program since every learner has a different style of learning. Some may retain more information while watching a video whereas some others may prefer social learning instead of reading an article. Based on the user's learning style, the content can be matched and is actually recommended based on analytics.
Creating customized Moodle solutions will help to assess the learner's strengths and weaknesses by using the self-assessment techniques, quizzes and some feedback from the teachers.
The learning strategy can be implemented by recommending some specific modules that will benefit the learner.  Targeted customized plugins development helps to turn the e-learning program into tools that improve and supports job performances.
---
Who Can Enjoy the Benefits of Customized Moodle Development Learning Solutions?
There are many scenarios where learning should be personalized. For example, during a corporate training, there are many specific areas that the learners should be trained on and for that, a program that fits all is not enough. The context of the program should be designed in such a manner that it helps the learners to obtain a professional certificate and specialize in a specific area.
Using Structural Gamification in Moodle E-Learning Platform
Customized Moodle learning programs help to pinpoint weaknesses and offer a targeted learning opportunity to those who are willing to achieve their learning goals.
To conclude, it can be said that Moodle solutions should adopt some level of customization to keep the learners engaged, according to their interest and also improve the outcome of the e-learning program.