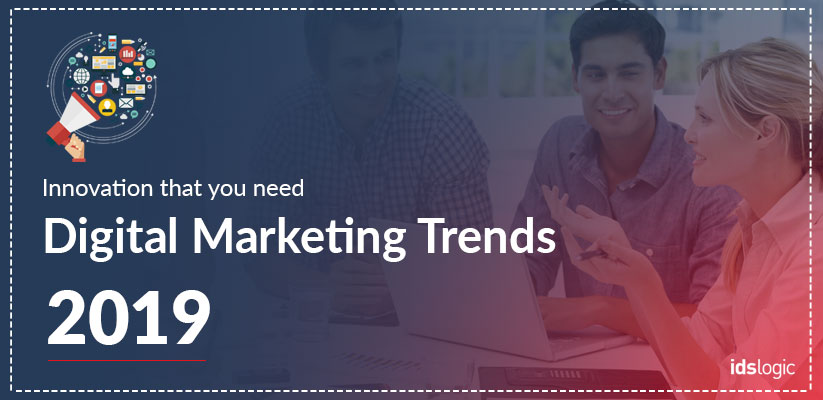 2019 Digital Marketing Trends and Innovation that You Need to Watch Now
When it comes to online marketing, it is very important for business organizations to remain ahead of the curve while adopting trends. Our marketing experts love to review the latest trends to see what's hot in the market to make commercial improvements. A marketing and advertising campaign that is executed effectively can serve the varied needs of any business and also increase the demand of the service or product that they offer.
Here, in this blog our marketing consultants have discussed some of the most important digital marketing techniques that marketers should follow the year ahead.
---
Big Data and Predictive Analytics: 
It is great to see that big data will become the power of data driven marketing. Predictive analytics will also require larger budgets, but its use of market and customer insight will help businesses understand the customer behavior and prepare their services based on the customer needs. This will gain huge popularity in digital marketing, as the new option will help in making business improvements and add value to it.
---
From Multichannel to Omni-Channel Marketing:  
Consumers are now becoming more and more sophisticated and search for information across varied channels. Initially, the multichannel marketing was used to help the prospects to communicate with business through various channels. Now prospects can be easily introduced to a business through Facebook ads, Twitter and email subscribers can easily communicate through it and the visitors can communicate it through comments or chats.
---
AI and Chatbots will Become Popular:
Artificial Intelligence will help to drive data analysis, making it easy for the marketers to deliver hyper personalization to the visitors and unique journey experience and content personalization. In 2019 digital marketing techniques will see more marketers set trigger based campaigns and also invest in dynamic content to serve more customers at every phase of the user journey. Chatbots will also help the brands to improve the customer service and offer more personalized services to the customers in need and at any time.
Top Technologies That Will Bring a Change in Software Development in 2019
---
Video will Soon be at the Top:
Video will win the race and will become the most successful medium of marketing in 2019. Since the average attention span of the visitors is becoming short, most people would prefer to watch a video rather than read a blog post. Live video will become a large factor in marketing as it will directly connect the buyers to the products or services. So, if you are willing to catch the attention of the consumer, then you can find them on various platforms like Facebook and etc. that gives marketers the opportunity to face their target market. In digital marketing, video feeds will continue to explode and interactive and imaginative video marketing will encourage user engagement.
---
Improved Digital Experiences: 
Creating responsive website designs for smartphones is now an old news. We now see innovation in digital experience in the areas of personalization and speed and conversational user interfaces that are based on improved insight. Technologies like Accelerated Mobile Pages (AMPs) and Progressive Web Apps (PWAs) will be used more and this will help to increase mobile conversion and also improve the click through rate from organic mobile traffic.