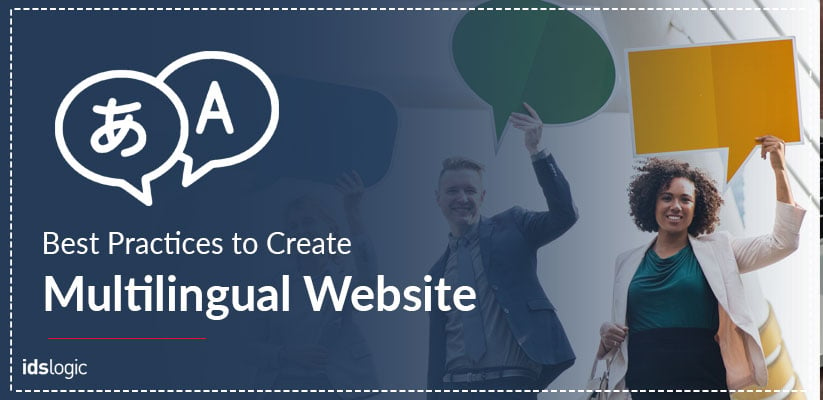 Best Practices to Create a Multilingual Website for Your Business
Even though English is the most widely used international language, there are more than 7000 other languages spoken all around the world. Having worked as a software consultant for the past 15 years, I have seen many of my clients having the requirement to create a multilingual website so that they can target a huge audience base and expand their business.
To make your project successful, I will discuss with you some best practices that you should follow to convert more potential visitors to customers and sales.
Best Practices to Convert More Visitors into Customers and Sales
Boost Your Brand Consistently and Spread a Global Message:
 Consistency is the key to success when creating and managing a multilingual website development. And this ensures that all the visitors have the same look and feel of the site, intuitive UX irrespective of language or locale. Across all the markets, you will want to promote the same brand and also convey the same business message to all and provoke similar actions.
It is through cross functional expertise, through planning and intelligent, multilingual web design that you can offer the experience that your visitors deserve with a consistent look and feel.
---
Stand Out from the Crowd with an Attractive Multilingual Website Design:
It is only by creating attractive designs and exceptional global UX that you can stand out of the crowd.  But for this, you have to follow some essential elements while building your multilingual web designs.
1- Choose global templates for a consistent global brand image as it helps to run campaigns and content to meet specific needs and preferences. 

2- Design a global gateway for the users as it is a navigation system directing the users to specific versions of the site. 

3- Create a website that can accommodate a wide range of global internet speeds so that your users don't have to wait for a graphic or heavy content page load. 

4- Format date and time conventions to support worldwide variations, so that the users are not confused about the timings displayed on the site. 

5- Use icons and images that are culturally appropriate and relevant so that they are not offensive in other cultures. 

6- Develop flexible UIs and get them reviewed by any publishing specialist so that the site navigation menus, call to action buttons and etc. are placed perfectly.
---
Offer Instant Translation:
If expanding to newer countries and regions is your next big step for your business, then it is likely that your site content was written in one or two languages. In order to offer a quick translation of your multilingual site, you can hire a professional to translate your site's content, but this can be difficult at times and also an expensive project.
Creating multilingual websites using the Google Translate may be considered as a faux pas, but choosing a machine translation often makes the process cheaper and faster than any other alternative.
Also Read: The Ultimate SEO Checklist of a Multilingual Website
---
Check for Duplicate Pages in the Menu Bar:
If you want to manually translate the text on the site, then how will you create a site with multiple pages in different languages? At the same time, you will simply hate to see the menu bar with 3 home pages in 3 different languages. 3 or more versions will surely overload the menu bar and reduce the user experience of the visitors. This is what you should avoid.