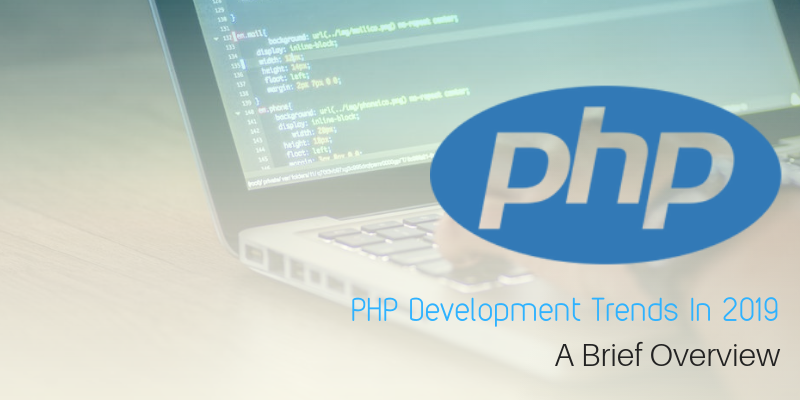 Latest PHP Development Trends In 2019: A Brief Overview

We all know that PHP is the most preferred server-side programming language of the developers. They are comfortable with PHP website development compared to other languages as it helps them to focus on a particular area.
Another core reason for its immense popularity is that it is an open source programming language, which means that it is available for free and it also supports MS SQL and Oracle databases without any issues.
Depending on the business requirements, application needs, development timeframes, you can choose a PHP framework from a large variety of choice. With the beginning of this year, let us understand the latest PHP trends in 2019.
---
Best Option for Small Businesses and Startups:

PHP is best for developing enterprise applications as it has the capability to handle huge data. So, by using the PHP platform, you can now easily start a small business and then keep on growing. It also comes with ready to use bundles and libraries that make it less vulnerable to the various changes in the field of web development.
So partnering with a PHP development company will of course reduce the cost and this means that it is an advantage for the startup organizations.
---
PHP and IoT Technology
IoT has made a great influence in the digital world and PHP which is the most used web development technology has connected to the advanced concepts and frameworks usage with the IoT devices. The devices include network infrastructures, sensor devices, mobile phones, wireless adapters and other embedded system that can be connected together to lead a modern way.
Even more, ecommerce and the digital presence with doorstep delivery has made the IoT game stronger.
New Features That You Would Enjoy While Migrating or Upgrading from PHP5 to PHP7
---
Increased Flexibility: 

PHP developers who have a createda web application for businesses willing to expand can now either choose to borrow from different libraries from various upgrades and places.  However, you will need a middleware in this case, which is a bridge between the OS and web applications.
There are many middleware solutions that are easily available and you can use it to access any PHP framework libraries.  So, if you have any PHP project then, hire PHP developers who have knowledge of the latest advancements to get the best benefit of the web application.
---
Combination of PHP and Java:

Many different companies are creating web applications that are a combination of Java and PHP. Java is considered to be one of the most secured programming languages and PHP development helps in increased speed.
Combining both these helps the companies to reduce the development costs and also upgrade their applications within a shorter period of time.
---
User Interface: 

Responsive webs are what users are nowadays looking for and this is another major PHP trend in 2019 for the user interface. Social media sites like Facebook, Emails, Twitter and even ecommerce websites like eBay and Amazon are mostly visited by people who search on their mobile devices.
To make their browsing experience better and convenient, the web PHP developers are ensuring that their websites are responsive. Online presentations, infographics and visual effects are also another rising trends that keep the users engaged with their sites.

Thus, to conclude, it can be said that PHP is a brilliant server side scripting language that helps to develop websites that are reliable, complex and fast. 
With a large variety of PHP frameworks available like Aura, Phalcon, CodeIgniter, Laravel, it is important to have a clear understanding of your business needs and the latest PHP trends in 2019 before making the final choice.