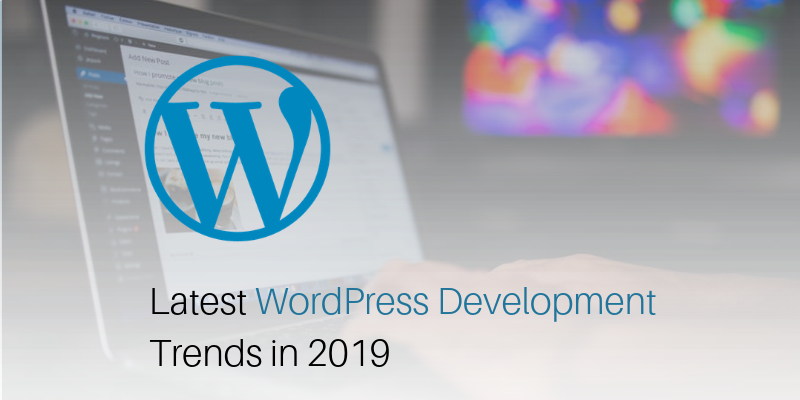 Latest WordPress Development Trends in 2019 for Better Websites and Enhanced Interactions
With more than 1.8 billion websites on the internet, more than one-quarter of them are powered by WordPress, which has evolved a lot from a blogging platform to the most popular open source content management system.
Furthermore, it is persistently growing to keep the WP website well and protected, and also visually attractive to potential customers.
With innovative design and coding trends, you can now use the best WordPress tools, templates, add-ons and plugins as well as ensure a perfect process for your website. But developers should know and understand the latest WP development trends in 2019 for the best results.
Here, in this blog let's take a look at some of the latest WordPress trends:
---

Video Headers:
If you have an online business, then you must be aware of the fact that videos represent the most influential content that is posted on the site. This is the reason why it is a leading web design trend and if you want to take advantage of using videos, then its
version Vaughn 4.7 WordPress has great capability to loop video headers.
It has helped to create some new decorative and innovative options and has also supported customization and the video header has taken it to a new level. Earlier, the video headers were used only is some specific instances, but we expect it to change this year as more and more themes offer this capability.
---

Drag and Drop Option Will Gain Popularity:
WordPress development is gaining popularity as it enables the users to customize their sites very easily and for this, you don't have to be a web development expert. WordPress offers simple tools, few users may find it challenging to begin.
The Drag and drop process will make the customization process easy and new users can now easily change the web design without any technical help with the drag and drop feature.
---
Focus on Mobile Based Design:
Another most popular trend that will gain popularity is the mobile-based design, which means Accelerated Mobile pages and Progressive Web Apps.
Google gives preference to AMP pages while considering the ranking factor and this is because most of the traffic comes from mobile devices and also because the AMP pages are lighter and the visitors don't have to wait for a long time for everything to load.
To cater to this issue, developers are not making mobile friendly WordPress themes that will make the launch of a website much easier.
---
Adding VR and AR to WordPress:
Virtual reality apps are already making waves digitally and WordPress developers are creating the plugins that can help to embed VR/ AR and 360-degree content on WordPress websites.
This is just the beginning of using VR and as we move towards the end of 2019, we will find more and more usage of VR/AR embedded in various WordPress websites.
Another thing to mention is that virtual reality photos will be of great help for video and photo-based websites where the creators can provide a holistic view of the complete area that they want to cover.
---
More Emphasis on Animations:
Earlier flash based animations gained much popularity on websites, but they had some limitations due to which they faded. But now they are returning back because of improved HTML5 and CSS3, and this has made the user experience more interactive and vibrant.
Many WordPress websites are now using particle animations instead of using images and videos because they can be created easily in JavaScript, as there are many libraries available.
Animations also help to provide the users with the information that they would have derived from watching videos.
To conclude, I can state that 2019 would be an exciting year for the WordPress community as a whole, where we will see a lot of trends getting adopted by various websites and WordPress will gain more popularity with better features, functionalities, and plugins.
Also Read: Top Latest Technology Trends That You Wish to Add to Your List 2019
---