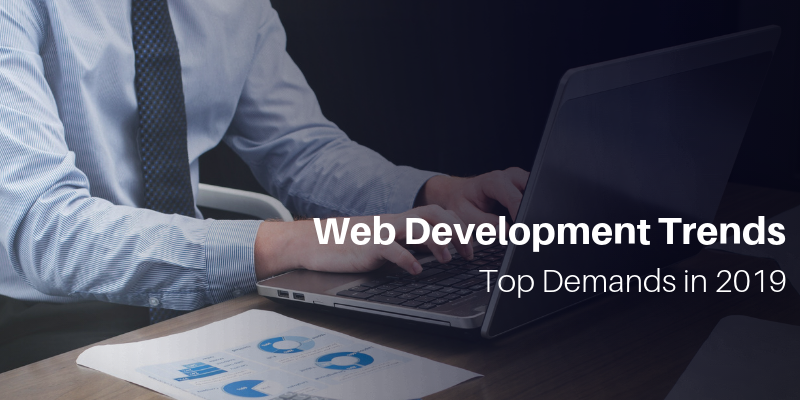 Web Development Trends: Top Demands in 2019
With every New Year, there are new trends and technologies in the market that shape up the environment that the web developers work in.  The entire software industry undergoes a transformation and this is evident as the latest technologies and methodologies disrupt the particular industry.
Since technology changes are very frequent, it is difficult to assume what might come next. One of the best means to stay ahead is to gather some deeper insights into the future trends and then harness them in your web development services in 2019.
Here in this blog, I will discuss with you some of the latest web development trends that will help you to grow your business and also help to remain competitive in the market.
Web Development Trends that will Help You to Grow Your Business
One-Page Website:
Following the latest trends and standards, and also the behavior of the users on the site, it is easy to say that people usually don't like to go through a lot of pages and then search for information that they need.
In the year 2019, the trend will be to develop one page websites that will be based on the principle of convenience and speed.
While creating a single page website, the designers have to think more about the UX and in a couple of years we will just be looking at the product on the screen and simply give a nod to purchase it.
Also Read: Important Software Development Trends to Expect in 2019
---
Push Notifications:
We have always seen push notifications on various websites together with latest news, posts and articles. This specific trend makes the enterprises more visible to the users and make the content even more appealing and engaging to them.
The users are often more attracted to these trends and updates. Push notifications are considered to be the best methods to boost user engagement.  It also encourages the users to quickly navigate and even reach out to their favorite content without wasting any time.
---
Motion UI:
Website visitors are becoming more and more interested in interactive and captivating graphics on web pages. And so web development companies are also realizing the fact that the reduced attention span of internet users are calling for attractive and captivating graphics.
Flash based graphics and static images are no more preferred by web users, they are looking for evocative motion UI that is becoming the latest trend of this year.
---
Progressive Web Apps:
These have appeared a few years ago and have become main competitors to mobile applications with emerging custom web development trend. The PWAs data is stored in the cache and it works great in the offline mode.
The PWA is a website that operates like a native mobile app. Many brands are making the switch from websites to progressive web apps and have enjoyed significant increments in the sales conversions and user engagement.
---
Automated Chatbots:
If your website is dependent on traditional support systems where the user needs to generate a ticket to resolve any query within a period of time, then you have to consider an upgrade for it. In this digital era, users are not willing to wait for any solution.
Organizations will lose their market if they are not able to answer their queries quickly. To make the system user-oriented and futuristic, they are automated chat solutions available.
All you have to do is to implement the right one and develop a solution that operated from anywhere.