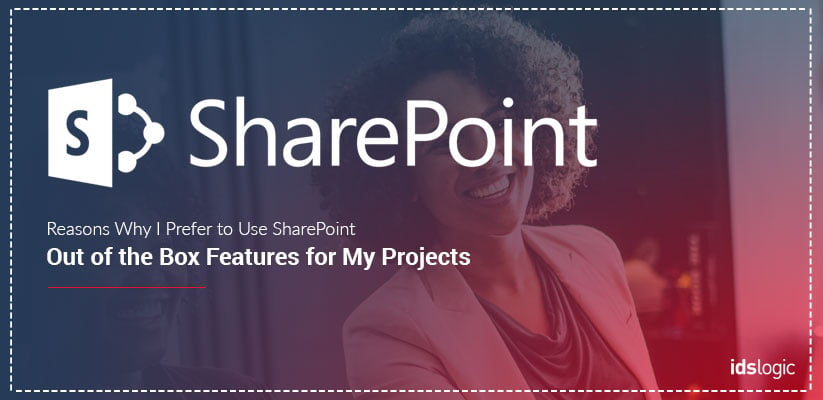 Reasons Why I Prefer to Use SharePoint Out of the Box Features for My Projects
Many organizations that have used SharePoint have realized that the platform is a highly scalable application that is reliable and has a quick turnaround time. I am a great supporter of SharePoint and its rich features. Since it helps to create dynamic web based applications, the applications help the users to share and collaborate information with one another.
Not only this, I also use the SharePoint out of the box functionality and tools because it helps in developing an easy application that is scalable and adaptable.
Here in this blog, I will explain some of the reasons why I stick to SharePoint out of the box functionality?
What is Meant by SharePoint Out of the Box Functionality?
By out of the box functionality, I mean that I don't use any 3rd party tools or plugins to solve any specific business needs and wants of a client. So this means that I have always preferred to use the native functionality and features that is available in SharePoint like extensive document management, collaboration and storage capabilities, default web parts that are already available.
---
Why I Prefer to Use the SharePoint Out of the Box Features?
Address All the Regulatory Needs:
With the SharePoint out of the box features, the users can easily customize their own security settings, auditing policies, storage policies and other actions that are needed for business processes and regulations. The users can ensure that sensitive information is managed and controlled in an effective manner. All the capabilities help to reduce the litigation risk of any organization.
---
Quick Time to Market:
With SharePoint out of the box, you don't have to learn any coding or about any custom product and etc. You can simply configure the web parts, meta data, views and security easily. 3rd party add-ons often mean that you have to learn them first, test them and also create a proper environment and then release it for your site. All these involve a lot of time.
Are You Looking for SharePoint Migration and Upgrade?
---
Effectively Manage and Re-Purpose Content:
The features allow a capability to the users regarding the creation and submission of the content for approval before it is published on various internet and intranet websites. The platform allows easy management of multilingual content and the processes are more simplified that helps to maintain relationships between the originals and the ones that are already integrated within the platform.

---
Experts Easily Available: 
If you stick to the out of the box SharePoint functionalities, then you can find proper expertise in the market and this will help you to maintain your site easily. With plenty of videos, resources and blogs on the net, you can easily understand the features and also find an expert who is great with certain application of the code.
---
Easy Sharing of Sensitive Data:
With the varied features, enterprises can now offer their employees an easy access to interactive and real time data through Microsoft excel spreadsheets from a web browser as SharePoint support excel services. These spreadsheets can be used to maintain and share data through a single and centralized version.
This also helps to protect any crucial business information from unauthorized access which might have to be integrated if using any third party add-ons.
Also Read: Use of SharePoint: Some Advantages and Disadvantages