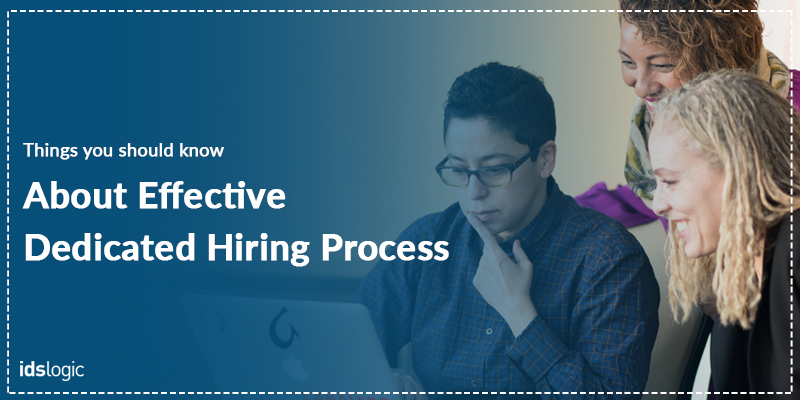 Things You Should Know About Effective Dedicated Hiring Process
Business can often be made easier if the right output with efforts are given to enhance the productivity of business. But lack of proper outputs may result in loss and if there is inadequate skills and resources, then meeting standard delivery also becomes a big problem.
Dedicated hiring has emerged to be a grand option in the industry, but remote hiring often follows some patterns and when followed dedicatedly, it often generates better results.
So, before we start with the discussion in details, we should know that hiring dedicated software professionals for your project means bringing qualitative addition to your existing team that work from a specific location.
Steps that You should take to Overcome Some Challenges while Hiring Remote Staff
Taking Initiative to Reach the Right Partner
No organization offering dedicated hiring services would dream about the issues that your business is facing at present. It would be your own initiative to reach out to a company offering resources and then discuss with them specifying your exact business needs.
Though few business owners prefer to send mails stating their requirements, it is a preference to sit face to face and then have an initial meeting and discuss your needs and business objectives.  It develops a better understanding at the starting of a professional relationship.
---
Checking and Viewing some Profiles of the Best Professionals:
Your business requirements may vary and while considering dedicated hiring, it is very important to go through some of the best profiles of resources that can meet your business needs at the best.
By doing this, you can compare the resources and choose the best professional having technical skills that you are hunting.
---
Interviewing and Confirmation of the Candidates:
Instead of choosing a candidate who is recommended, it is better to interview the candidate and find out his or her skills.
Maintaining transparency is crucial and you can schedule an interview on any online platform where you can test and chat with your future candidate.
Effective Staff Augmentation Strategy Can Make All the Difference
This is a great chance to judge and verify your candidate before reaching a final decision. Once you are satisfied with the best dedicated resource, you can take the final decision regarding the candidate and send an email stating your wish to hire the specific candidate.
This confirmation mail will be the start of the process of hiring.
---
Contract and Agreement:
It's very important to keep things clear and transparent and more importance should be given to a healthy and trusted relationship. The non-disclosure agreement, contracts and etc. helps to protect your confidential information as the professionals would use the same document on varied projects.
The NDA and signed contract would bring complete peace of mind for both the parties involved in the contract.
---
Payment Modes:
Once the contract for dedicated hiring is signed, it is time to start with the work.  However, it is done immediately after the payment against the selected hiring plan is done.
The payment may be done through a safe and trusted gateway and it is with the receipt of the amount that the hiring process and the billing formalities will start.