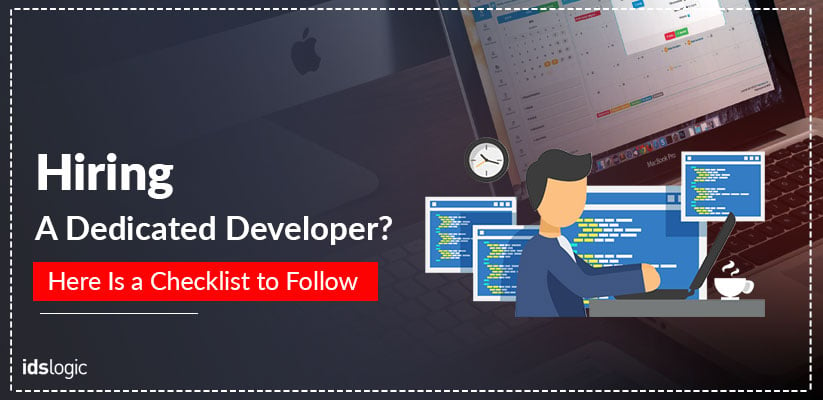 Hiring A Dedicated Developer? Here Is a Checklist to Follow
Is your company looking for a reliable outsourcing software provider or needing to hire dedicated developers?  Hiring remote expert teams are nothing new nowadays, but going in the right direction is what holds importance.
Surely by now, your business has grown to a significant level where it needs to expand and also increase productivity. In order to keep the costs low, businesses often consider viable options while keeping the same quality of output.
Hiring an experienced programmer in your team takes a lot of efforts and it needs a serious employer's approach.
With more and more companies preferring to hire dedicated developers from India, it is also a great means to save on the substantial costs for licensed software, taxes and etc.
Characteristics of a Good Dedicated Developer:
This is one of the most important factors because you need to know that the core qualities of a dedicated developer are always different from the qualities that an in house developer possess.  If you have plans to work with an expert on a remote basis, then you should remember that you won't see the person in your office.
So, if you want to have complete control on your dedicated resources, then check if they have the following characteristics:
Self-Reliant:  Your dedicated developers' team in India should always be ready to face a wide range of challenges during website or mobile application development and also solve the issues on their own. This is the quality that they need when they come across any complicated tasks and finding the best solution is always highly appreciated.
---
Expertise in Specific Technology: The dedicated team of developers should be an expert in a specific technology and should know about all the latest tools and techniques so that they can build high quality software for their clients.  It is only their expertise that will distinguish them from other resources.
Are You Looking to Hire Dedicated Developers for Your Project?
---
Self-Motivated: Whenever managers are on leave or busy with some other tasks, some developers may be very difficult to motivate to work on a project without many staffs surrounding them. So, while hiring any software specialist from India, make sure that the developer is self-motivated and have enough knowledge to implement the project efficiently and at the same time meet all deadlines.
---
But How to Find the Best Dedicated Developers?
You may not be so lucky to find a dedicated team having all the positive qualities that will benefit you from established workflows, good understanding of the project requirements, polished communication and etc. So here we have shared some possible approaches in finding a good software dedicated developers team for your job:
Gather Recommendations from Credible Sources:
Word of mouth or personal brand advocacy is an essential part that helps in connecting the startups with a dedicated team. You can ask your friends or any relatives who have recently hired a software development company in India or the UK for their dedicated resources.
Also Read: Things You Should Know About Effective Dedicated Hiring Process
---
Communicating with the Developers through Freelancing Portals:
If you want to hire some freelancer developers as dedicated resources, then you can search some of the most relevant freelancing portals to create a team.
"Hiring freelancers has its own pros and cons, which you have to consider before finalizing."
---
Social Media may Help to Find Good Developers:
LinkedIn profiles and other social media sites are great mediums where you can get in touch with specialists and know about their specific skills and previous employment history.
The platforms have different types of resources and you can choose as per your preference. Social media acts as a powerful tool to establish contact with software professionals.