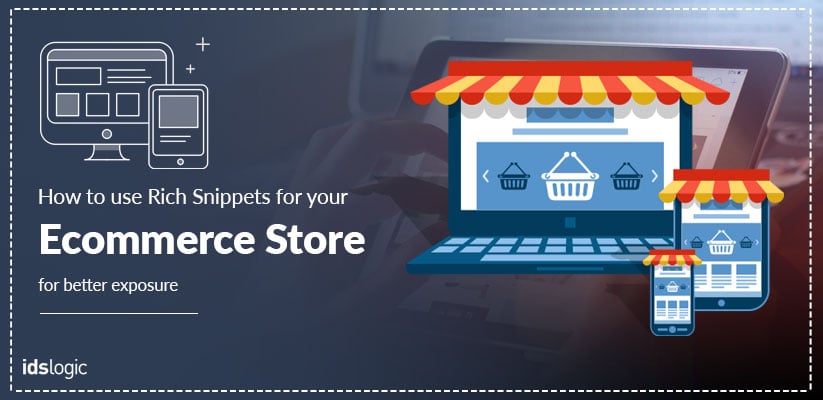 How to Use Rich Snippets for Your Ecommerce Store for Better Exposure
In the past few years, Google has evolved from a simple answering engine to a service that can use machine learning and offer the best results to the user's queries. And for this, SEO has shifted from a single keyword application to focusing on the whole user experience.
Things have shifted a lot from questions like:
"Is the specific keywords on my web page?"
and
"Do I rank number one for the specific keyword used by the user to find information?"
This shift has put more focus on what matters the most for ecommerce retailers, for example getting clicks, being visible and investments.
So, here in this blog, we will discuss the most important pieces of information that you should present before your potential visitors, that will help to build customer confidence and increase the click thru rates of your online storefront.
Using rich snippets for your ecommerce store is one of the best practices that can help to increase the visibility of your products, increase your CTR and drive more revenues.
This is not only an effective technique, but it can be easily and quickly implemented.
---
Do you Know What are Rich Snippets?
They are a form of structured data that helps the website owners to add extra details about their site so that the search engines can easily understand, interpret and also display more accurate and relevant results to the users.

It uses a common language that describes the websites that helps the search engines to do their job in a better manner. Rich snippets are essential for entity based research and to present a powerful means for the e-commerce shops to sell more services or products.
This extra piece of information helps your ecommerce store to stand out more on the SERP and increases the chance of a person's clicking rate.
Are You Looking  for Ecommerce Solutions?
---
Why Does Rich Snippet Matters for Your Ecommerce Business Store?
Rich snippets are HTML coded information or microdata that helps the search engines to understand what the visitors can infer from your ecommerce website without clicking through the results.
It allows the visitor to see a few aspects of the website and product photos and prices, ratings and reviews and even videos can be added to the search results. The extra visual details that rich snippets offer to the ecommerce site gives it a better chance to grab the attention of a prospect, which ultimately makes the sales.
Related Blog:  B2B in Ecommerce: Latest Trends That Are Reshaping the Industry
Another benefit of using the rich snippet is that it helps in ensuring that you have complete control on how your product information shows up on the web.
Get to know the different types of rich snippets that you can use to make your ecommerce store popular:
Product: The first and most important thing of concern for the business owners is to ensure that search engines understand that they are scrolling a product page. This helps your product to appeal better to the right searcher at the right time with more relevant description.
Availability: There may be many times when you have visited a store and tried to make the best purchase only to find that the product is out of stock. With rich snippets, you can always inform the customers about the availability of the product
Ratings and Reviews: Another best way to sell the product online is through client testimonials. Reviews and ratings of the product from actual customers are more effective than any other compelling ad types.
The best means to implement rich snippets in your ecommerce online store is by using the product properties to mark up each product.